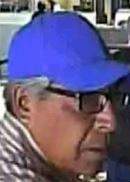 Santa Ana Police Department
Advisory: Detectives From Santa Ana & Costa Mesa PDs Asking For Assistance In Identifying Suspects In An Elderly Scam
On 04/11/2017 at approximately 1:20 pm, an elderly 84 year-old victim was approached by two suspects on the street, convinced to go to the bank and withdraw money from his account, which was eventually taken by the waiting suspects. A similar crime was reported to the Costa Mesa PD on 04/28/2017 at 1030 a.m. These suspects are known to loiter around banks and bus stops near banks.
Suspect #1: Male, Hispanic, 50-60 years old, 5'06"-5'07" tall, 150-160 lbs., brown eyes, gray hair, missing teeth.
Suspect #2: Male, Hispanic, 50-60 years old, 6'00"-6'02" tall, 160-170 lbs., gray hair, brown eyes and broken teeth.
Vehicle: late model Gold American sedan, possible Ford Taurus.
Crime Type: PC 487(a) Grand Theft/ PC 368 (d) Crimes Against Elderly
Locations:
Santa Ana – Wells Fargo Bank: 2301 S. Main Street, Santa Ana
Costa Mesa – Citibank: 2700 Harbor Boulevard, Costa Mesa
Please forward any information to SAPD Robbery Unit, Det. Cpl. A. Silva at 714-245-8545 or email asilva@santa-ana.org; CMPD Det. Maridakis at 714-754-5051 or email gmaridakis@costamesaca.gov, or Orange County Crime Stoppers at 1-855-TIP-OCCS.