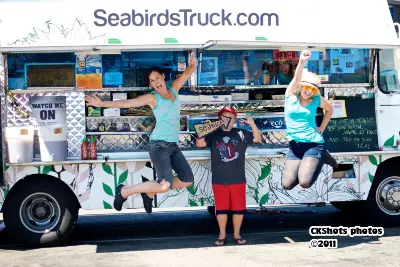 The Santa Ana City Council is considering a proposed ordinance that will make it very difficult for food trucks to do business in Santa Ana. The hearing will be held on Tuesday night. Click here to read the staff report.
City traffic engineering staff found that vending trucks in the vicinity of schools, parks and community centers encouraged children to cross streets mid-block, and that lines could block sidewalks and force pedestrians to detour onto the street, according to the O.C. Register.
The SAPD took a very odd stance with regard to the food trucks. They appear to be blaming the food trucks for the behavior of our local gangbangers.
According to the SAPD the food trucks have allegedly "attracted people engaged in narcotics sales."
The SAPD also is alleging that gangbangers charge the food truck operators a "tax" and that the food truck operators have been the victims of robbery and homicide.
If all that is true why is the SAPD allowing the gangbangers to run amok in our city? Once again the SAPD's Police Chief, Carlos Rojas, who was hired with ZERO experience as a Police Chief is to blame!
Instead of cracking down on the gangbangers our city is cracking down on the food trucks.
The new anti food truck ordinance will mandate:
No vending within 500 feet of a school, park, community center or public playground;
No vending within 100 feet of a marked or unmarked crosswalk; in public streets, alleys or highways with a posted speed limit of 35 miles per hour or greater;
and no flashing neon or electronic displays that could distract drivers.
In the end it will be easier to buy medical marijuana in Santa Ana then to buy food from a food truck.
While it is true that our city has parking issues – that will now get worse due to the City Council's granny flats ordinance, it seems to me that the reason we have a lot of food trucks is because folks are buying from them. The reality is that a lot of our local residents don't drive and as such the food trucks are a convenience for them.
Food trucks give families the opportunity to start small businesses. They create jobs and the food truck owners in turn spend money buying from wholesale vendors.
Santa Ana is awash in gang violence so of course instead of doing anything about that the City Council is going after the food trucks…