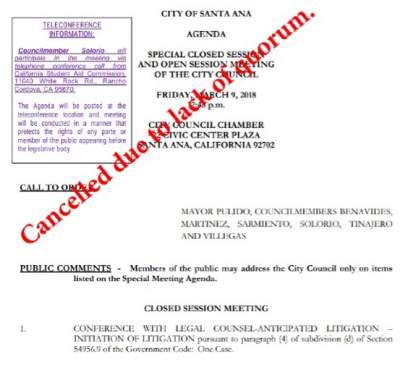 The Santa Ana City Council majority proved once again this week that they are a bunch of clowns as their efforts to illegally place a district specific elections measure on the June primary election ballot failed miserably, according to the Voice of OC.
The City Council majority, which included Vince Sarmiento, Sal Tinajero, David Benavides and their new pal Jose Solorio, voted on Tuesday, this week, to place this measure on the June ballot. But they once again underestimated Mayor Miguel Pulido, who proceeded to punk them in royal fashion.

Pulido refused to sign the paperwork, after Tuesday's City Council meeting, authorizing placing the measure on the June ballot.
In desperation the City Council majority announced a special City Council meeting that was supposed to take place on Friday, at 12:45. They planned to vote at this meeting to authorize one of the other City Council members to sign in lieu of Pulido.
But then the meeting happened and the lame City Council majority failed to establish a quorum as they needed four members at the meeting and did not get even that.
So what did these clowns do? They submitted the incomplete paperwork to the O.C. Voter Registrar any way. And of course he invalidated it because it was, you guessed it, incomplete.
Then this whole mess got even uglier!
Text messages that the City Council majority sent to each other on Thursday, in blatant violation of the Brown Act, which is California's open meeting law got out on Friday. These clowns got caught red-handed discussing strategy for Friday's botched meeting!
Check out the amazing text messages:
Councilman Sal Tinajero texted: "Have Michelle (Martinez) sign it I'm sure she's not as frickin petty and childish as the mayor."
Councilman David Benavides texted: "What are our options? Does someone else have [authority] to sign (ie Mayor [pro tem])? Do we need to [go to] the Court this morning and file a writ to compel [the mayor] to sign?"
Councilman Vicente Sarmiento texted: "I don't think Michele can sign [resolutions]. Sonia (the City Attorney) suggests we consider filing a writ to compel Miguel to sign. In the alternative, can we call for special meeting to delegate attestation authority to member of the Council to sign [resolutions] if Miguel refuses to sign? These are both very time sensitive."
These idiots included all six City Council members in their illegal texting thread! Can you believe that? So of course one or two of those City Council members, such as Councilman Juan Villegas or Mayor Pro Tem Michele Martinez, busted them in the act.
They did not copy Mayor Miguel Pulido. But either Villegas or Martinez sent the text messages to him. Then Mark Rosen, an attorney who has worked with Pulido in the past, sent the Santa Ana City Attorney rightfully alleging that the text conversation was, of course, completely illegal.
Rosen alleged that the special meeting that the City Council majority had convented was done so in violation of the Brown Act. And he was right about that! This might explain why these payasos were unable to meet quorum on Friday. I am sure Solorio is having second thoughts by now about working with these morons.
Rosen also claimed that the City Council majority's effors to place the district election measure on the June ballot was illegal for two more reasons:
they were violating public hearing requirements for district elections under state law
and were illegally using litigation money to get around a five-member vote requirement for a mid-year budget allocation for the ballot measure.
Rosen gave the City Council majority another option. Instead of rushing to place this measure on the June ballot they can come back and do this the right way in November.
But there is a reason why the City Council majority was in a rush in the first place. They were trying to use the district election ballot measure to reset and extend their term limits. Benavides and Tinajero are terming out in November.
And the City Council majority was likely going to use this district election measure to further gerrymander our wards. They did this previously when Tinajero was able to dilute the Vietnamese vote in his ward the last time they changed the ward areas.
Rosen is already planning to legally challenge the City Council majority if they try again to place this measure on the June ballot. Apparently these clowns are going to try next week to get a judge to allow the ballot measure to proceed.
Pulido won't sign the ballot measure documents as he continues to maintain that the measure was illegally approved to begin with.
Now someone needs to file a complaint with the FPCC about the Brown Act violations. Time for the City Council majority to pay some big fines!