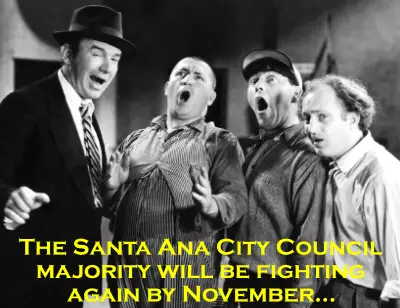 If there is one thing I can guarantee going into the November elections, it is that the current Santa Ana City Council is destined to crumble.  Already the coalition that is backing Council Member David Benavides is showing signs of cracking.
We exposed this week one of Benavides' supporters after she reached out to the Charles Hart Ward 3 campaign – a slap to the face of Eric Alderete, the Ward 3 candidate who has sided with the crumbling majority.  Alderete has already distanced himself from Team Benavides.
And it has became painfully obvious that the Benavides cabal has no intention of helping Council Member Sal Tinajero's sister, Myriam, who is running for the SAUSD School Board.  The so-called mastermind behind the Benavides junta, John Palacio, is very obviously trying to get Valerie Amezcua elected, not Tinajero.  It won't be long before both Tinajeros give Benavides and Palacio the boot.
But let's fast forward to November.  Longtime Benavides ally Roman Reyna will easily win in Ward 5.  Council Member Vince Sarmiento will win in his Ward as well.  And Alderete is surely destined to win in Ward 3.  What will happen then?
Benavides, Reyna and Council Member Michele Martinez will form the younger, less educated wing of the Council.  Together they remind me of the hapless Council Members one finds in the small cities that pepper East Los Angeles – cities like Bell, Vernon, Cudahy, etc.  Long on enthusiasm, short on ideas – more like cheerleaders, not elected officials.
On the other hand, Alderete, Tinajero, and Sarmiento will be a far better match with Mayor Miguel Pulido, who polls show to be far ahead of Benavides.  This educated and professional council foursome will become the new majority after the election, guaranteed.  Sure, Sarmiento wants to be Mayor, but he will surely become exasperated by the hapless Benavides/Martinez/Reyna trio, who obviously can't get good paying jobs and are looking to cash in on their elected positions, just like their counterparts in East Los Angeles.
Yes, Alderete is from East Los Angeles, but he is the cream of this crop.  With his smarts and his credentials he could easily run for any legislative office, and win.  Can you say that about Benavides, Reyna or Martinez?  The latter already had her shot, at the 69th Assembly District, this past June.  As we know, that was an epic fail.
The rest of the Council will put aside the election angst, send Benavides, Reyna and Martinez to the kiddie table, and roll up their sleeves.  There is work yet to be done in Santa Ana.  The pettiness can wait until the 2014 elections.