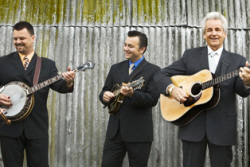 FOR IMMEDIATE RELEASE: AUGUST 23, 2011
CONTACT: JENN STARNES, 949-724-6574
The Del McCoury Band Brings Bluegrass to Flights & Sounds Summer Festival this Weekend
Gospel R&B group H'Sao performs on Friday; Bluegrass legend McCoury on Saturday.
IRVINE – The Great Park's Flights & Sounds Summer Festival launches the fourth weekend of summer dance parties and concerts with rich mix of harmonic soul, R&B and bluegrass music.
On Saturday night, August 27, come hear a living legend, Grammy winner Del McCoury and his band, masters of traditional bluegrass music. There are few musical styles so innately American as bluegrass, and there is no musician today so deeply identified with bluegrass as Del McCoury. McCoury got his start in Bill Monroe's iconic bluegrass band in the 1960s, and today is regarded as both the keeper of the bluegrass flame and as one of its greatest innovators.
Start your weekend Friday night, August 26, at an eclectic dance party and move to the beat of H'Sao, a vibrant six-piece band with roots in gospel and soul, as they perform their high-energy music and masterful a cappella vocals. Parking for the Flights & Sounds Summer Festival is $10, and admission is free. Events begin at 8:15 p.m.
Flights & Sounds Summer Festival takes place near the brand-new Palm Court Arts Complex and expansive North Lawn and Great Park Balloon. Visitors will also be able to enjoy the Park's inaugural exhibition in the new Great Park Gallery, Plane Air Power by Laguna Beach artist Jorg Dubin.
The Great Park offers convenient pre-order picnics, which include everything from appetizers to desert, and are available online at www.ocgp.org. You can also bring a picnic or enjoy something from the menu at the Hangar Café, featuring a fresh selection of delicious meals and snacks. Hangar Café opens at 6 p.m. before all shows, and live music begins at 8:15 p.m.
Flights & Sounds Summer Festival is presented by the Orange County Great Park and produced by Irvine Barclay Theatre. Both general admission seating and park space for lawn chairs or picnics are available for all shows. The Orange County Great Park is located at Sand Canyon and Marine Way, and can easily be reached by the 5 or 405 freeways. For more information, visit http://www.ocgp.org/events or call (866) 829-3829.
Upcoming Festival Events:
Friday Night: World Beat Dance Parties
September 2 – BlackMahal – Punjabi funk with drums, horns and hip hop.
Saturday Night: American Music Styles in Concert
September 3 – Preservation Hall Jazz Band – Joyful mastery of traditional jazz.
About the Great Park
The Orange County Great Park, with its 1,347-acre master plan, is the focal point of the redevelopment of the publicly-owned portion of the 4,700-acre former Marine Corps Air Station, El Toro. The Great Park features an iconic tethered helium balloon that rises 400 feet in the air, providing an aerial view of Park development. Other features include the Carousel, Farm and Food Lab, Kids Rock Playground, Palm Court Arts Complex, North Lawn recreation area, historic Hangar 244. The South Lawn lighted soccer fields and Community Garden will be added in 2012. For more information, please go to www.ocgp.org
###