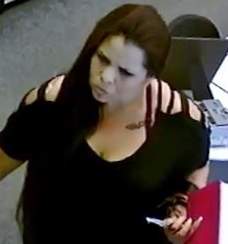 Costa Mesa Police Department
Advisory: Attempt to Identify a Suspect
On July 25, 2017, at about 2:00 p.m., the female pictured here entered an optometry office and pretended to be a customer browsing the glasses. Once staff was distracted, she concealed a pair of sunglasses and exited the office without paying. She's wanted for petty theft.
Female, Hispanic, 25-30 yrs old, 5'04" tall, 200-230 lbs, long black hair, distinctive tattoo below left collarbone
Any info about this incident or suspect, please call Det. Hernandez at 714.754.5120.
###