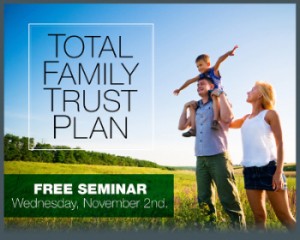 Are your family and your assets protected if something happens to you?
Is your retirement account protected by a living trust?
How can you keep the government out of your affairs?
Who will be the guardian of your minor children if you die?
Why your family needs a living trust?
These and many other questions will be answered at a free seminar on Wednesday, November 2nd from 6:00 – 7:00 p.m.  The seminar will be held in the conference facilities at the Law Office of Bruce Peotter, located at 1432 Edinger Avenue, Suite 200, in Tustin. Continue reading→