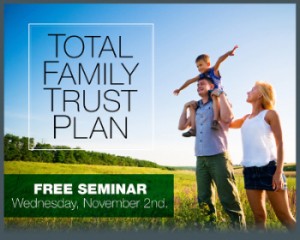 Are your family and your assets protected if something happens to you?
Is your retirement account protected by a living trust?
How can you keep the government out of your affairs?
Who will be the guardian of your minor children if you die?
Why your family needs a living trust?
These and many other questions will be answered at a free seminar on Wednesday, November 2nd from 6:00 – 7:00 p.m.  The seminar will be held in the conference facilities at the Law Office of Bruce Peotter, located at 1432 Edinger Avenue, Suite 200, in Tustin.
Dinner will be served. Seating is limited so please reserve your seat(s) now! Don't put off this important subject any longer. All attendees will be eligible to special discount pricing. RSVP to bpeotter@peotter.com or call 714-597-6515.
Please forward this message to your friends and family, by clicking here.