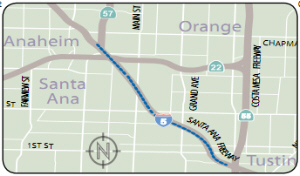 OCTA and Caltrans announce a Public Scoping Meeting for the Proposed Improvements to I-5 from SR-55 to SR-57
OCTA invites the public to attend on Nov. 2, 2011 from 6 to 8p.m.
The Orange County Transportation Authority (OCTA) in cooperation with the California Department of Transportation (Caltrans) is proposing to relieve traffic congestion, eliminate bottlenecks, and improve traffic operations on Interstate 5 from State Route-55 to State Route-57 in the city of Santa Ana in Orange County.
The project alternatives being studied will include, but not be limited to, adding one HOV (High Occupancy Vehicle) lane in each direction, ramp realignments, retaining walls and sound walls, the closure of the Main Street HOV on/off ramps, restriping, construction and/or relocation of concrete barriers, drainage modification and replanting. All improvements are anticipated to occur within the existing State right-of-way.
You are invited to the Public Scoping Meeting about the I-5 Improvement Project. The purpose of the public scoping meeting is to provide you with information regarding the proposed project and the issues to be studied in the Initial Study/Environmental Assessment.
We would welcome any suggestions you may have regarding the project. (Click here to view meeting notice) OCTA and Caltrans invite you to attend Wednesday, Nov. 2, 2011 from 6 to 8 p.m. (6:30 p.m. presentation) at Hoover Elementary School – Multi-purpose Room, 408 E. Santa Clara Ave., Santa Ana, CA 92706.
For more information about this study, call Julie Toledo, OCTA, Community Relations Specialist at (714) 560-5573 or visit the project website www.octa.net/I-5/CCImprovements.aspx.