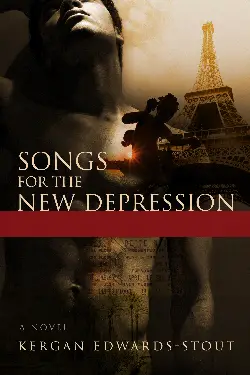 FOR IMMEDIATE RELEASE: October 31, 2011
Circumspect Press Releases Critically Acclaimed Debut Novel
ORANGE, CA – Circumspect Press is proud to announce the publication of the highly anticipated debut novel, Songs for the New Depression, by award-winning director Kergan Edwards-Stout. Kirkus Reviews calls Songs for the New Depression "a distinctively entertaining novel written with moxie and bolstered by pitch-perfect perspectives." Songs for the New Depression explores the life and loves of Gabriel Travers, who, in the face of his impending death, struggles to make amends to those he has wronged.
Mixing the contemplative styling of Michael Cunningham with the black humor of Augusten Burroughs, Songs for the New Depression takes its readers on a journey to personal awakening. Charles Perez, author of Confessions of a Gay Anchorman and founder of the No Shame Project states that "Songs for the New Depression is a bold reminder that life, especially in its most difficult moments, is worth living. It is an important book."
Songs for the New Depression takes its title from a 1976 Bette Midler album, as lead character Gabriel is a big fan. Back in his youth, when he first discovered her artistry, life had seemed so easy, but a string of bad choices then has led to his imminent death. And so, with the clock ticking, Gabe begins to finally peel back the layers and tackle his demons – with a little help from the music of the Divine Miss M and his mom's new wife, a country music-loving priest.
The novel was loosely inspired by the author's partner, Shane Sawick, who died from AIDS in 1995. "While the lead character shares a certain sensibility with Shane, the tale is a fictional one," Edwards-Stout explains. "Through loving him, I became a better person, and that theme of redemption fuels my novel."
As Robert Michael Morris, star of TV's The Comeback and author of An American Scrapbook, relays, "Songs for the New Depression carries you away on waves of humor and sadness as we follow the protagonist as he deals with his search for love, acceptance and his battle with AIDS. Far from being maudlin, it is extremely sensitive and ennobling. A fine work that will leave you wanting more."
Songs for the New Depression is available in hardcover, paperback, and ebook, and can be purchased through BarnesandNoble.com, Amazon.com, and other fine bookstores. For more information, please go to: http://kerganedwards-stout.com/songs/
ABOUT KERGAN EDWARDS-STOUT
Kergan Edwards-Stout is an award-winning director, author and screenwriter, and recently published his first novel, Songs for the New Depression, through Circumspect Press. Shorter works, including essays and short stories, have appeared in such journals and magazines as American Short Fiction and SexVibe. He is honored to have been named by the Human Rights Campaign as a 2011 Father of the Year.
Currently, Kergan lives in Orange, California, with his partner Russ Noe and their two sons, Mason (11) and Marcus (9).
He is currently at work on his forthcoming memoir, Never Turn Your Back on the Tide.
For a full electronic press kit, please go to: http://kerganedwards-stout.com/media
###
Publisher: Circumspect Press
Press Contact: Robert R. Noe
Phone: 714.552.2348
Email: info@kerganedwards-stout.com
Website: http://kerganedwards-stout.com