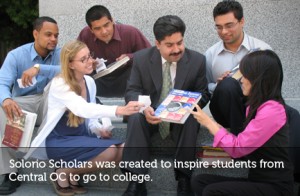 For Immediate Release: October 4, 2012
For More Information Contact: Carol Chamberlain – office: (916) 319-2069, mobile: (916) 804-5355
Solorio Scholars Program Seeks Applicants for Class of 2013
Central Orange County high school seniors from Anaheim, Garden Grove and Santa Ana
encouraged to apply for college application help and fees
SANTA ANA, CA — The Orange County Leadership Fund announced that this year's application deadline to become a "Solorio Scholar," a program created to inspire more high school students from central Orange County to apply for college, is October 31, 2012. Established in 2009, the competitive process awards 25 high school seniors with college application and admission services, as well as grants for college-application fees.
"The college application process can be overwhelming, especially for students who will be the first in their family to attend college," says State Assemblyman Jose Solorio (D-Anaheim). "I am proud to partner with the Orange County Leadership Fund to offer the Solorio Scholars program to help high school seniors navigate the application process and pay for the high costs of applying to a college or university."
Solorio Scholars awardees will receive individual help with college application personal statements, up to $250 for college application fees or other college related expenses and $100 for college textbooks. A panel of judges will select the scholars, using a process similar to the decision-making process used at colleges. Applicants for the Solorio Scholars program will be judged on grades, test scores, written statements and extracurricular activities. Applicants must be seniors in Anaheim Union High School District, Garden Grove Uni ed School District or Santa Ana Uni ed School District.
Assemblyman Solorio is a stanch education advocate at the state and local level and is married to a Santa Ana Valley High School teacher. His commitment to the Solorio Scholars program underscores his understanding of the importance of higher education and the challenges students in underserved communities face when applying to college.
"I know from my own experience how powerful a college education can be," Solorio, a first generation college graduate, says.
The Orange County Leadership Fund is providing the financial resources for the Solorio Scholars program. The Orange County Leadership Fund supports leadership workshops, innovative education initiatives, neighborhood clean-up projects, and programs addressing local and state policy issues.
Assemblyman Solorio is scheduling high school visits to introduce the program and distribute important college information. To schedule a school visit, please contact Nadia Villafana via email at Nadia.Villafana@asm.ca.gov, or call (714) 939-8469.
The application and more information about the Solorio Scholars program can be found online at www.SolorioScholars.com.
State Assemblyman Jose Solorio represents the Sixty-Ninth Assembly District, which includes the cities of Anaheim, Garden Grove, and Santa Ana. For more information about Assemblyman Solorio, visit www.assembly.ca.gov/solorio.