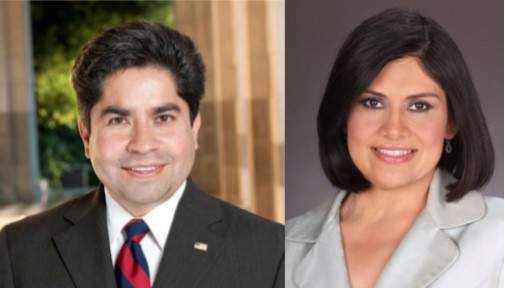 Two Santa Ana School Board members have stepped up to help Santa Ana West NJB (National Junior Basketball) in the wake of our article about how the Santa Ana Unified School District is charging youth basketball organizations $180 per hour to use school gyms that were built with our tax money.
I heard today from SAUSD Trustee Cecilia Iglesias, who said her own son is interested in youth basketball.  I put her in touch with the mother of four who is running Santa Ana West NJB.
I also got an email message from Rancho Santiago Community College District Trustee Jose Solorio.  You might recall that Santa Ana College officials blew off the Santa Ana West NJB – but now Solorio has asked the Chancellor of the RSCCD to advise him as to whether or not the district charges fees, such as the rip-off fees charged by the SAUSD.
It will be interesting to find out what the RSCCD is charging for the use of their gyms, but the broader issue is that the mom who contacted them for help with the Santa Ana West NJB never heard back from anyone at Santa Ana College.  That simply won't do – these school administrators get paid a fortune, with our tax money, and they should be responsive to the public!
Solorio also asked the Chancellor to see about listing his email address and phone number on the RSCCD Board of Education's web page.  They currently only list one district email for the entire Board – and no phone numbers.
The SAUSD is even worse. They list the names of their Trustees and their Bios on their web page but no phone numbers and no email address of any kind.
I firmly believe that all politicians should make themselves available to the public.  If they don't want to hear from us then they should not run for public office in the first place!
Kudos to Solorio and Iglesias for caring enough to do something about the plight of the Santa Ana West NJB, which has had to resort to trying to raise money to pay off the greedy SAUSD.  In a city that is suffering with so much youth obesity you would think that our school districts would want to help non-profit organizations committed to youth sports.
BTW, Solorio is running for the 34th State Senate District.  Click here to check out his website.  And I am trying to talk Iglesias into running for the 69th Assembly District.  Click here to friend her on Facebook.  I know they would both do a great job in Sacramento!