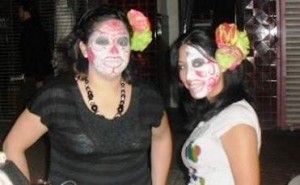 Come learn how to design a Dia de los Muertos sugar skull style make-up just in time for Halloween! The class will be held at Santa Ana College, in B-17, on Wednesday, October 30, 2013, from 6:00 PM- 9:00 PM.
Through hands-on practices students will learn how to lay a base, color blending and many different brush strokes. Safe and hygienic face painting practices will be emphasized. A $ 5 material fee is payable in class to the instructor.
Nina Greville is a working Hollywood make-up artist with over 20 years experience.
Terms: 1 SESSION(S)
Fee: $35/person
Seats Remaining: 13 of 20
Instructor: Greville N
Event Code: 80149 A
Click here to register.