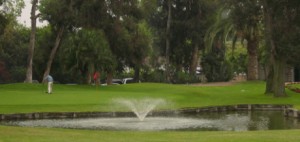 Does Santa Ana need a major park space or a Golf Course?
By: Shane Barrows
The City of Santa Ana is in dire need of open park space. Our city does not have nearly enough park space for our residents to enjoy the outdoors. Not too many residents know about a quietly kept secret. The City of Santa Ana owns some of the land that the Riverview Golf Course is currently occupying! The golf course is a large piece land that stretches from 17th Street all the way to the 22 freeway along the riverbed. It is full of plush green grass, a man-made lake, and has pre-existing trails. It sits on a total of 114 acres, with 21 of those acres in the city of Orange. The remaining 93 acres are in Santa Ana, with 32 acres belonging to Santa Ana and 61 acres belonging to the Orange County Flood Control District.
So, the question is do Santa Ana residents need a large open space park, or a golf course? I think the answer is obvious. The city should buy out the lease agreement that it has with the golf course and use the space as a major park for our residents. Add some picnic tables and restrooms, and leave the rest alone. The existing trails can be used as biking and running trails.
As for traffic concerns, the only vehicle entry and exit points to the park should be off of 17th Street and another off of Memory Lane. This will keep vehicles out of the surrounding neighborhoods.
The current lease was signed in 1996 and expires in 2026. The golf course pays the city 8% of its total sales and fees collected as rent. For the last three weeks, I have tried to find out how much the golf course has paid in total rent for the last three years, but the information appears to be unavailable. It is not listed as a revenue source in the city budget, and I was told the rent is probably being paid to the city's Community Services department by city staff, but apparently no one knows for sure. This is another reason why residents are pushing for more transparency at city hall. This information should be readily available, and in all actuality should be listed on the city budget. Not hidden away in a sub-budget that is not available to the public.
I believe we need the open space more than we need a golf course. Once I am elected to the City Council in November, I will make it one of my priorities to get an actual listing of all city owned property to determine who is currently occupying the property, and if the city is receiving a fair market for rent. A detailed review of our assets is necessary to get our revenues back on track.
Shane Ramon Barrows
Santa Ana City Council Candidate, Ward 3
www.shanebarrows.com