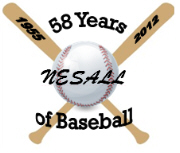 North East Santa Ana Little League® 2013 Season Baseball Sign-Ups
(Boys & Girls 4-16 years old born between May 1, 1996 and April 30, 2009.)

Walk-up Registration Dates:
October 27, November 3, 10, & 17,
December 1, 8, & 10, 2012
and January 5 & 12, 2013
From 10:00 a.m. – 2:00 p.m.
Online registration available!!
Fees: $100 per player Jerry Ash T-Ball and Rookie League Division
$130 per player A, AA,
$160 per player AAA and Major Division
$190 per player Junior/Senior Division (Ages 13 through 16)
Early Registration discount of $20 applies to all applications received prior to December 2, 2012 and paid in full by January 29, 2013. All fees increase by $20.00 on January 1, 2013.
Sign-up/Registration fee includes one (1) uniform shirt, pants, and hat.
A down payment of 50% must be paid at time of Sign-up/Registration. A parent or legal guardian must be present at Sign-up/Registration. An original, county-issued, official birth certificate and three proofs of address (example: utility bills, insurance documents and driver's license) are required for Sign-up/Registration. No exceptions!!! Limited scholarships are available for qualifying NESALL players.
All players participate in every game and will be placed on a team if Sign-up/Registration requirements are met. Due to umpire costs, the Junior/Senior League fees are higher than all other divisions.
NESALL Boundaries:
All players must live within these boundaries in order to play at NESALL. If not within these boundaries, other leagues are available.
N – Garden Grove (22) freeway
S – E. First Ave.
E – Costa Mesa (55) freeway
W – N. Main St.
Tryouts/Assessments:
Saturday, January 19, 2013 and Saturday January 26, 2013**
** Each player in the Rookie, A, AA, AAA, Major, Junior and Senior division players are required to attend the Tryout/Assessment and will be assigned during Sign-up/Registration.
Location: NESALL Fields
2100 N. Grand Ave., Santa Ana, CA 92705
(next to Sierra Intermediate)
Coaches, Managers, Umpires, Sponsors and Volunteers Needed.
For more information: www.eteamz.com/nesall or call 714-542-1066
BÉISBOL Inscripciónes 2013
de La Pequeña Liga Del Noreste De Santa Ana
(Niños y Niñas que nacieron entre 1 de mayo de 1996 y 30 de abril de 2009 ~ 4-16 años.)
Suba Fechas de inscripción:
27 de octubre, 3, y 10, y 17 de noviembre,
1, y 8, y 15 de diciembre 2012,
y 5 y 12 de enero de 2013
10:00 a.m. – 2:00 p.m.
¡El registro en línea también!
Cuotas: $100 por jugador Jerry Ash T-Ball y novato Liga
$130 por jugador A Liga a AA Liga
$160 por jugador AAA Liga a Mayor Liga
$190 por jugador Jr. y Sr. Liga (13-16 anos)
A principios de descuento de inscripción de $20.00 se aplica a todas las solicitudes recibidas antes del 2 de diciembre 2012 y pagados en su totalidad antes de el 29 de enero de 2013. Todas las cuotas aumentarán en $20.00 dólares el 1 de enero de 2013.
La inscripción incluye un uniforme (1) que consista de una camiseta, pantalones y gorra las cuales pueden conservar. Los pagos deben hacerse al momento de registrarse. Tiene que estar presente un padre o pariente cuando se registe. Tiene que demostrar un certificado de nacimiento oficial registrado por el condado. También tiene que presentar tres formas de dirección. Por ejemplo recibo de pago de utilidades y licencia de manejar. Sin Excepciones. Becas limitadas disponibles para algunos jugadores de NESALL
Todos los jugadores juegan en cada juego, todos serán puestos en un equipo con inscripción. Le liga tiene que pagar a Los honorarios de los Árbitros en la liga de Júniores y Señores y por eso son mas alta los cuotas de otras divisiones.
NESALL Limites – todos los Jugadores deben que vivir dentro de esta área para poder jugar en la liga de NESALL.
N – Garden Grove (22) autopista
S – E. First Ave.
E – Costa Mesa (55) autopista
W – N. Main St.
Asesoramientos y Pruebas:
Sábado, 19 de Enero y Sábado, 26 de Enero de 2013**
** Todos jugadores serán asesorada durante la registración.
(para novato, A, AA, AAA, Mayores, Júniores y Señores niveles)
Ubicación: NESALL Fields
2100 N. Grand Ave. Santa Ana, CA 92705
(enfrente de Food4Less y Grand Ave.)
Se necesitan Directores, Árbitros, Patrocinadores, y Otros Volunataries.
Para mas información: www.eteamz.com/nesall o llama 714-542-1066