The new Santa Ana City Manager, Raul Godinez, spoke at the last ComLink meeting. Remember that our Santa Ana City Council majority recently hired Godinez, who was the Public Works Manager in Lynwood, and made him the second highest paid City Manager in all of California.
Someone at the Com Link meeting pointed out to Godinez that the city's revenue is down 2% and expenses are up 4% and asked how he planned to address this budget deficit issue.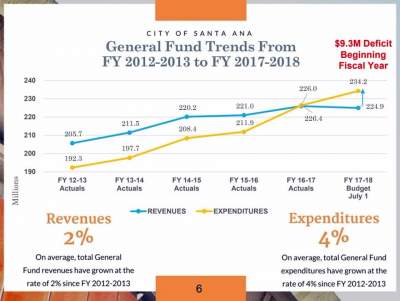 Godinez repeatedly stated that Prop. 13 needed to be repealed in order to raise our property taxes. Godinez said this even though he was talking to a room filled mainly with senior citizens. He must of said Prop 13 at least 10 times, according to one of our readers. All Godinez talked about was Prop 13 and Adult Use Marijuana Sales.
Godinez is one of the reasons our City is broke. Our lame Santa Ana City Council majority is bankrupting our city. In fact just this week they agreed to loan car dealerships at a key Santa Ana auto mall $1 million to build a digital billboard next to the 55 freeway, according to the O.C. Register.
Prop. 13 has saved California's taxpayers $528 billion dollars, according to the Howard Jarvis Taxpayers Association. But if Godinez has his way we will be taxed out of our homes so the City can pay for his exorbitant salary…