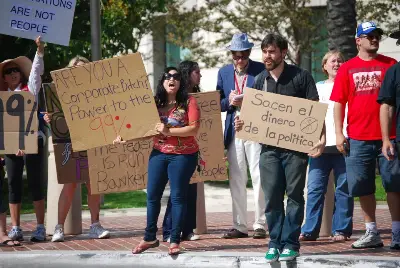 Joining the Occupy movement was a very bad idea for Santa Ana's artists
"A core group who've been in the Santora for years are growing increasingly worried that building owner Mike Harrah will push them out as rents in Santa Ana's gentrifying downtown move upward," according to the Voice of OC.
I met with many of these artists back before they formed  a group called the Artists Village Alliance of Santa Ana (AVASA).  I had advised them to join together and represent their community with a unified voice.  Unfortunately, AVASA quickly was taken over by the most radical of the downtown artists – and they stupidly got involved with the Occupy movement.
Today the artists have no voice – and it is their own damn fault.  Attacking Harrah continues their stupidity as he has no contractual reason to keep the artists who are not paying their rent.
If the artists cannot make money then they need to go out of business.  That is just too bad – but the people of Santa Ana have already spent millions on the formation of the Artists Village.  Our city is broke and their are no more handouts to be had – and Governor Jerry Brown got rid of redevelopment agencies.
These same artists have opposed Downtown Inc., a non-profit that oversees the expenditure of thousands of dollars that are captured from downtown Santa Ana business owners via a property tax assessment called the PBID.  But Downtown Inc. is now the only organization left that can spend money in the downtown area.
The artists should have listened to me.  It is too bad that they got caught up in issues that really don't matter.  Now they are scrambling for political access, but our Council Members know darn well that these artists are affiliated with failed Santa Ana mayoral candidate Al Amezcua.  Why should anyone on the City Council give them the time of day?  I wouldn't.
In fact this unwashed rabble is now promoting the far left union hack Julio Perez for the 69th Assembly District, and opposing the leading candidate for that seat, Santa Ana Councilwoman Michele Martinez.  Again, a very stupid choice.
You can read more about what these artists are demanding, over at the Santa Ana Sentinel blog.  They can demand all day, but until they stop attacking our City Council and reconsider their alliances with political wannabes like Amezcua and Perez, they are going to remain without a voice at Santa Ana's City Hall, and it is their own damn fault.