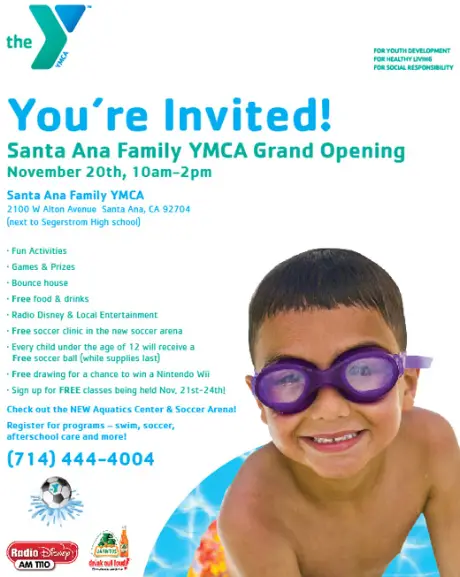 It's been a long time coming, but Santa Ana finally has it's very own YMCA! Located next to the new Segerstrom High School, it's set up in a prime location.  Grand opening on Nov. 20, from 10 an to 2pm, at 2100 W. Alton, in Santa Ana.
Let's show our support to keep this venue open and operating for all of our kids, and let's get our kids involved so that they can meet other kids of the community, build they're confidence, & get involved with more activities!
Fun Activities
Games & Prizes
Bounce house
Free food & drinks
Radio Disney & Local Entertainment
Free soccer clinic in the new soccer arena
Every child under the age of 12 will receive a free soccer ball (while supplies last)
Free drawing for a chance to win a Nintendo Wii
Sign up for FREE classes being held Nov. 21st-24th!
Check out the NEW Aquatics Center & Soccer Arena! Register for programs – swim, soccer, afterschool care and more!
Click here view the website!
Click here to view the grand opening flyer