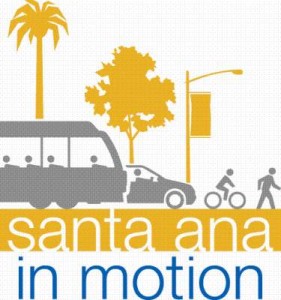 Santa Ana Community Alert:
SANTA ANA INVITES RESIDENTS TO PROVIDE INPUT ON PROPOSED TRANSPORTATION UPDATES AT 2 UPCOMING COMMUNITY WORKSHOPS
SANTA ANA, CA (October 1, 2012) – The City of Santa Ana will host two community workshops to gather input from residents on proposed updates to the City's General Plan Circulation Element. Based on earlier input from residents and technical work completed over the summer, the City developed a series of proposed concepts for improving Santa Ana's street network. City officials are now seeking residents' feedback on the proposed updates.
The next community workshops will be held:
• Wednesday, October 10, from 5:30 to 8 p.m.
A presentation will take place at 6:30 p.m.
Madison Elementary School, 1124 E. Hobart Street, Santa Ana.
• Saturday, October 13 from 9:30 a.m. to noon
A presentation will take place at 10:00 a.m.
Plumbers and Steamfitters Union Hall, 3904 West First Street, Santa Ana.
City officials said residents' continued participation in the planning process is important, because the goal is to create and implement a plan that reflects the community's vision for transportation in Santa Ana, while providing a number of social, economic, environmental and health benefits. The Saturday, Oct. 13 workshop also will include an opportunity for residents to see concepts from the draft Harbor Boulevard Corridor Plan, which is one of the first city projects that reflect the ideas and proposals in the Circulation Element Update for making streets more complete.
"This update is extremely important to all Santa Ana residents and to our city's future," Councilwoman Michele Martinez said. "Residents' input to date has been invaluable as we have worked on the preliminary updates. Their continued participation will be even more beneficial as we move forward in finalizing and implementing these ambitious and exciting changes."
The workshops will include ideas for changes to street standards (number of traffic lanes, providing for bike lanes, and sidewalk conditions), new bicycle lanes and routes, and updates to the goals and policies for the transportation network in Santa Ana. The plan is modeled on what are known as "Complete Streets" principles, which focus on planning, designing and building streets with all users in mind – including bicyclists, motorists, transit passengers and pedestrians of all ages and abilities.
To learn more about the two upcoming workshops or to share your thoughts, concerns and ideas, visit www.santa-ana.org/santaanainmotion, or contact the City Planning Division via email at SantaAnaInMotion@santa-ana.org or by calling (714) 667-2792.
###