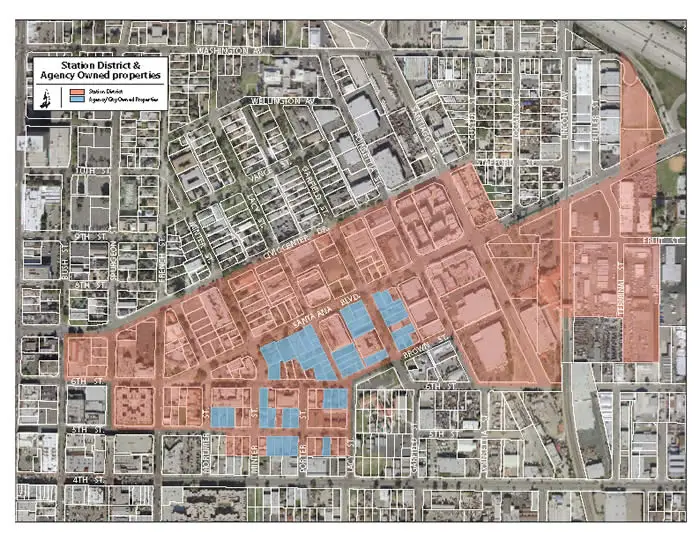 The City of Santa Ana is presenting two community meetings this month regarding the "Station District" development, on January 14th and 21st at 6:30 p.m., at St. Joseph Church, in their Parish Hall.
The meetings are about improvements proposed for the Santa Ana neighborhood located between the train station and civic center.
Station District Goals and Objectives:
Global Vision for The Station District
Enhancing Public Spaces and Streets
Linking Neighborhoods & Business with Public Transit
Providing Local Retail Services
Incorporating High Quality Architecture
Providing a Variety of Housing Types: For-Rent & For-Sale Homes with a Range of Affordability
Based on community input received at community meetings held over the last few months, the "Station District" team selected by the City of Santa Ana will be seeking your input on a preliminary concept plan for development and improvements on the vacant City-owned properties in the Lacy Neighborhood.
The City staff will also brief you on other transit and land use planning efforts.  Click here to read the event flier for further details.
For more information on the community meetings please contact Scott Kutner at (714) 667-2259, while for any other information on the Station District please contact Sandi Gottlieb at (714) 647-6585.
Click here to read the Station District RFQ.
Key Santa Ana Station District Contacts:
Master Developer
Bea Hsu, Related California
bhsu@related.com
949.660.7272
City of Santa Ana
Sandi Gottlieb, Community Development Agency
sgottlieb@santa-ana.org
714.647.6585
Scott Kutner, Community Development Agency
skutner@santa-ana.org
714.667.2259
George Alvarez, Public Works Agency
galvarez@santa-ana.org
714.647.5659