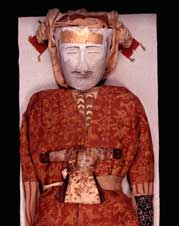 The Silk Road Educator Workshop is coming up on Jan. 28
The Bowers Museum, located in Santa Ana, is presenting two events this month for teachers.  Click here to read their event flier.
DIALOGUE ON ARTS EDUCATION
Wednesday January 13, 2010 6:00pm-8:00pm
The Qualities of Quality: Understanding Excellence in Arts Education
Presenter: Steve Seidel Director of the Arts in Education Program, Harvard University Graduate School of Education; Senior Researcher, Project Zero
Steve Seidel presents Project Zero's recent report, The Qualities of Quality: Understanding Excellence in Arts Education. This report can be viewed on the Wallace Foundation's website. The evening includes a facilitated discussion on practical ways educators and parents can implement some of the study's findings in arts education efforts in Orange County. Reception follows. Co-sponsored by the Orange County Department of Education.
Fee: $10 / Students $5 Advance Registration by January 7, 2010
SILK ROAD EDUCATOR WORKSHOP
Thursday, January 28, 2010 4:00 PM–6:30 PM
Guest Presenter: Nicole Gilbertson, Ph.D., Site Director, UCI History Project
• Explore the exhibition, Ancient Arts of China: A 5000 Year Legacy with a docent-led tour.
• Prepare for our upcoming exhibition, Secrets of the Silk Road, March 27-July 25, 2010.
• Receive instructional materials and develop a lesson plan.
• Refreshments provided.
• Developed in partnership with the UCI History Project.
Fee: $10 Advance Registration by January 20, 2010
Sponsored by the E. Rhodes and Leona B. Carpenter Foundation
For more information: Please call the Education office at 714.567.3680 or e-mail schooltours@bowers.org.
Book your Silk Road Tour today!