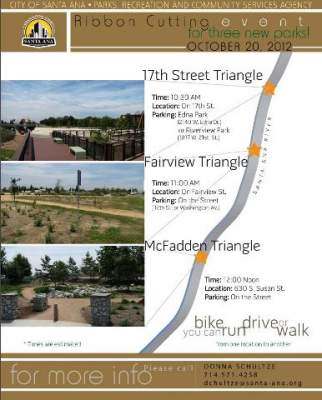 City of Santa Ana, Downtown Orange County
Community: The City of Santa Ana Announces the Grand Opening of Three New Santa Ana River Parks
SANTA ANA, CA (October 16, 2012) – The City of Santa Ana, Parks, Recreation and Community Services Agency proudly announces the opening of three new parks along the Santa Ana River Trail: 17th Street Triangle (.66 acres), Fairview Triangle (.30 acres) and McFadden Triangle (.78 acres). On Saturday, October 20, 2012 the city will officially open the three parks with a Ribbon Cutting ceremony at each site.
Starting at 10:30 am at 17th Street Triangle, (17th and Santa Ana Riverbed), a brief ceremony will take place. From there, those in attendance can walk, run, bike or drive to Fairview Triangle (Fairview and Santa Ana Riverbed) for the second ceremony scheduled at approximately 11:00 am. If you walk, run, or bike, the distance taking the Santa Ana River trail connection is one half mile. The final ceremony will take place at approximately 12 noon at McFadden Triangle (McFadden and the Santa Ana Riverbed) where light refreshments will be served. The distance from the Fairview Triangle Park to the McFadden Triangle Park is one and one half miles.
The city has been working hard to increase park space for the Santa Ana residents. The three parks were funded through city park fees, Habitat Conservation Funds, Recreational Trails Program and Proposition 50. The parks will be used as a resting stop for those who walk, run and bike along the Santa Ana River as well the residents who live in the area. These unique ceremonies will allow us to celebrate our new open park space and exercise at the same time. For more information, including information on parking, please check the following web link: http://www.santa-ana.org/parks/ribbon-cutting.asp.
####