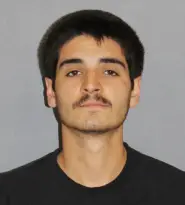 Jacob Michael Margo, 24, a Santa Ana resident, was convicted Monday of killing a 19-year-old man, Octavio Jesus Alcala, at an Irvine construction site because he suspected the victim stole his bike, according to the O.C. Register.
Margo is facing up to 50 years to life in prison after getting convicted of first-degree murder with a sentencing enhancement for the use of a gun in the killing. He is set to be sentenced on Feb. 1.
Margo told a friend that he was going to kill the guy who took his bike, according to Senior Deputy District Attorney Keith Burke. Then he lured his victim, Alcala, lured  to a construction site near Wolf Trail and Orchard Hills, where he shot and killed him.
Employees arriving for work at the construction site found Alcala's body on June 5, 2015.
The prosecutor alleged that Margo "savagely beat" Alcala before shooting him – after driving him to the construction site.
Police later found some of Margo's DNA on a rock at the scene of the crime.
Margo's defense attorney tried to argue that the killing was done in the heat of the moment, but the prosecutor told jurors that Margo had planned to take the victim to the construction site on purpose because it was far from any residences. And Margo then dumped the gun and ammunition in the ocean, in Laguna Beach.
Margo took the stand and told the jurors that it was not his intention to hurt Alcala but that he instead wanted him to have to walk home.
However the prosecutor scoffed about the preponderance of Margo and his victim just happening on to the construction site. Burke said "it's a great place to kill someone and he knows that… You have time to leave to get rid of evidence like the murder weapon."
After the crime, Alcala's body was a bloody mess but Margo was seen with barely a scratch on him.
Margo also testified that he took off to Mexico two days after the murder just to "get away" not because he was worried about publicity surrounding the case.
The prosecutor said that Margo was obviously lying in his testimony about "simple stuff," and he asked "why would you trust him to tell you about the big stuff?"