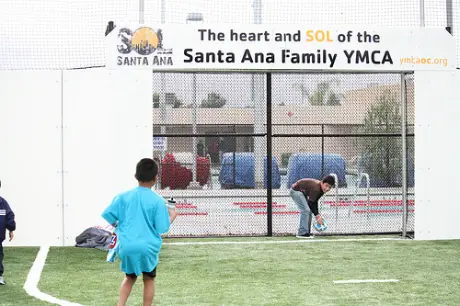 PRESS RELEASE
SANTA ANA FAMILY YMCA HOSTS SOCCER TOURNAMENT
APRIL 1ST – 3RD, 2011
Santa Ana, CA. The recently opened Santa Ana Family YMCA will be hosting its first official soccer tournament the weekend of April 1-3, 2011. The event is co-sponsored by JAR Billiards in Garden Grove and Derma-Allay. We are very happy to have as our guest of honor Christian Patino, retired professional soccer player. Samuel Jacobo from Fox Sports en Espanol will be the emcee for the opening ceremony held at 6:00pm on April 2nd.
The schedule will be as follows:
Friday April 1: 6:00pm – 9:30pm
Tournament Kick-off followed by start of Adult and Youth Tournaments
Saturday April 2: 8:00am – 9:30pm
Continuation of tournament games and Opening Ceremony
Sunday April 3: 8:00am – 8:30pm
Final Champion Games followed by Award Ceremony
The public is invited to join us for a weekend of fun-filled soccer, food, and entertainment.
For additional information contact Jack Salseda, Director of Operations at 714-444-4004 or jsalseda@ymcaoc.org.
About YMCAOC
At the Y, strengthening community is our cause. With a focus on youth development, healthy living and social responsibility, the Y serves Orange County through six (6) Health & Wellness centers (Laguna Niguel, Newport Beach, Mission Viejo, Fullerton, Yorba Linda, and Santa Ana) and over 50 Afterschool Program centers. YMCA programs celebrate and honor
common values of respect, responsibility, honesty, and caring by infusing character development into the foundation and practice of all our programs; from youth sports and group exercise classes to parent/child programs and community services– Y programs build healthy spirit, mind, and body for all. The YMCA of Orange County is a nonprofit, charitable organization that serves the entire community. Donations support our scholarship program
and Our Promise – To strive to keep programs open for all. Whether you are looking to get fit, give back, or meet new friends, the Y has something for you! JOIN PLAY GIVE VOLUNTEER www.ymcaoc.org/sa