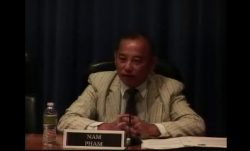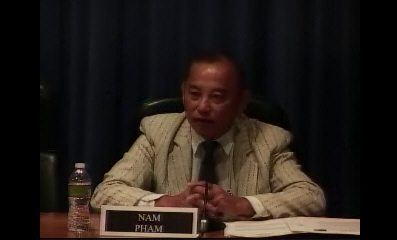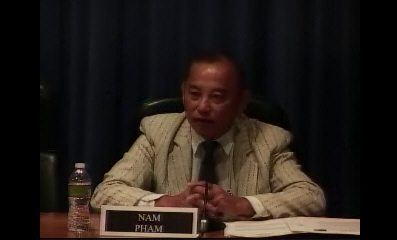 Nam Pham, a longshot candidate for Ward 6 on the Santa Ana City Council, got busted today by the OC Weekly's Gustavo Arellano, who found a Pham campaign ad in a Vietnamese newspaper.  Someone translated the ad for Arellano, who reported that Pham claimed in the ad that among his supporters are white voters who are helping him specifically because they don't want a Mexican to win the seat.
The forum in question was the Com Link forum, which we reported about here at the New Santa Ana blog.  Pham was actually awful at that debate.  The best performer that night was mayoral challenger Charles Hart, although it should be noted that Santa Ana Mayor Miguel Pulido answered his questions very candidly and he did so smoothly.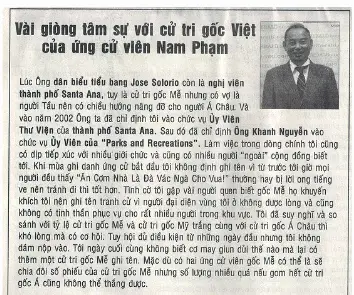 Nam Pham ad courtesy of the OC Weekly
According to Arellano, Pham went on to claim that these mysterious gabachos "guided and helped me a lot, including printing flyers and helping distribute to every home. They often give me encouragement."
Pham is of course referring to Santa Ana's notorious "Usual Suspects," who were at the Com Link forum in full force.  I spoke to one of them, Thomas Gordon, today.  He reiterated that he thinks Pham is "very smart."  Pham has been almost unintelligible at the two forums I have attended.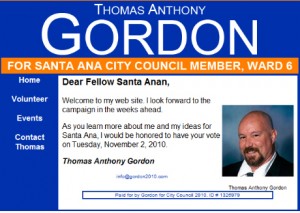 Gordon also said he thinks Pham might win.  This is ironic given that Gordon pulled papers to run in Ward 6 too, but he failed to collect twenty signatures.  To make matters even murkier, Gordon's papers were signed by another Ward 6 candidate, Helen Martinez, and her family.
One of our readers recently saw Gordon picking up Martinez signs at Cogs Printing, in Santa Ana.
Gordon also told me today that he has been very impressed by Pham's signs.
Is Gordon helping both of these Ward 6 candidates?  That would be an odd strategy.  We did catch him texting answers to Martinez at the South Coast Neighborhood Association candidates forum, which we also reported here on this blog.
Pham previously served on the Santa Ana Library Board, which is now defunct.  He ran for the Rancho Santiago Community College District's Board of Education in 2008, in Area 1.  He came in dead last, according to Smart Voter, with just over ten percent of the vote.
His top priorities in 2008, were:
Plan and Organized the future for our children.
Guidance and Support our children to ensure their success.
Be there to have the works intall properly.
Yes, he wrote them exactly that way.
This year his top priorities, according to Smart Voter, are:
EMPLOYMENTS! … EMPLOYMENTS! … EMPLOYMENTS! Key to all problems.
Utilize the limited available funds to balance the budgets.
Plannings effectively.
Yes, that is verbatim as well.
He claims that his occupation is "Community Volunteer."  I don't know about that but I think I can guarantee this guy will never be a Santa Ana Councilman.