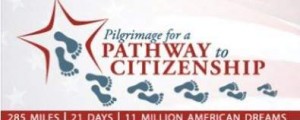 You're invited to welcome and pay tribute to 4 courageous people at the Episcopal Church of the Messiah in Santa Ana today, Sunday, September 15, 2013, from 1 pm to 3 pm. You will also get a chance to take action to pass compassionate immigration reform with an earned path to citizenship!  Click here to RSVP on Facebook.
Starting August 11, eleven "pilgrims" walked 285 miles from Sacramento to Bakersfield, culminating at Cong. Kevin McCarthy's (Republican whip) office on Sept. 1, to ask for a vote on compassionate immigration reform that includes a fair path to citizenship. Then the next day more than 2,000 people packed the historic Fox Theatre in downtown Bakersfield … to show Cong. McCarthy and others the urgency of this important legislation!
Meet and hear stories from Enrique, Vicky, and Rogelio from Costa Mesa who walked the full 285 miles, and Shakeel Syed, Executive Director, Islamic Shura Council of Southern California who joined them in Fresno to walk 111 miles. Find out how you can take action! Enjoy food and meet some wonderful people!
The Episcopal Church of the Messiah is located at 614 North Bush Street, in Santa Ana.
Enter Parish Hall on corner of Bush and Civic Center
Parking at meters is free on Sundays within a 10 block radius.
Free Parking lots: "Hands Together" diagonally across street and Palmer Insurance next door
Organized by friends and supporters of the pilgrims with help from OCCCO, Orange County Congregation Community Organization.
For more information, contact Jan Meslin, jmeslin@cox.net 858-395-4675  or Minerva Gomez, minerva@Occcopico.org