Do you remember when former SAPD Police Chief Carlos Rojas quit the SAPD to go be the Chief at BART (the Bay Area Rapid Transit System in San Francisco and Oakland)? At the time Rojas said his new job was a "fun" challenge. "I'm excited and humbled to have been selected to lead such a progressive police department," he said.
Well it did not take Rojas long to anger his new employers!
"Not long after Rojas started work in late May, he made the decision to stop issuing daily curated email reports on police calls at BART, which described in short paragraphs the reported crime and the department's response, and instead, to send BART crime information to the free online tool, CrimeMapping.com," according to the Mercury News.
Rojas steadfastly refused to send out crime reports in Santa Ana, resorting to using crimemapping.com, unlike other police agencies such as those in Anaheim, Tustin, Fountain Valley, Irvine and the OC Sheriff's Department, which all make crime logs readily available to the public.
While Rojas was allowed to under-report crimes in Santa Ana, by the lame City Council Members Sal Tinajero, Vince Sarmiento, Michele Martinez and David Benavides, his new bosses in the Bay Area would have none of that! Just a few weeks after Rojas shut down crime reporting at BART, the BART Directors forced him to once again send out narrative summaries of felony crimes on the system, according to the Mercury Bee.
Is it any surprise, now that Rojas has already proved to be a disaster at BART, that he is reconsidering his exit from the SAPD?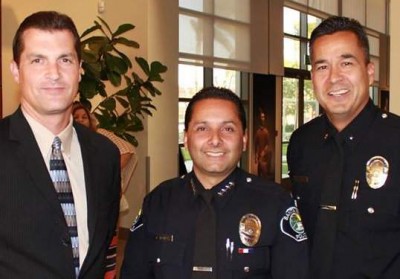 We found out today that Rojas has filed a claim against the city of Santa Ana, alleging he was forced to quit because he was retaliated against for disclosing suspicious activity among city officials, according to the O.C. Register.
Rojas is alleging that he has been "severely damaged as he was … forced to involuntarily resign his civil service position as a result of potential illegal activity and/or noncompliance among city officials (and his complaining/disclosure re same). He has been forced to obtain employment at an unfamiliar department where he will earn less salary, expend considerably more in living expenses and will live apart from his family."
The truth is that Rojas was a total disaster at the SAPD! Violent crime shot up through the roof during Rojas' tenure. We all know that the only reason he was hired was that he was brown and spoke Spanish. He was a totally inexperienced police chief who never would have been hired by a legitimate police department. Even his new liberal bosses at BART are surely reconsidering their choice of Rojas! It should be no surprise that armed robberies have shot up at BART since Rojas took over, according to the Mercury News.
Rojas' acting replacement at the SAPD, David Valentin, did not take long to start cracking down on the gangs – something Rojas never did!
By the way current Santa Ana City Council Member Michele Martinez appeared to be applauding Rojas' claims today on Facebook. Does she even realize that Rojas might well cost the City of Santa Ana's taxpayers a fortune in legal defense fees? What a joke! She cannot term out fast enough!