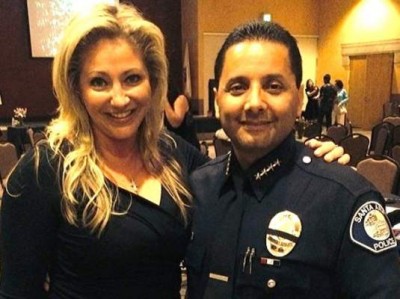 The Santa Ana Police Officers Association has announced their endorsements with regard to the upcoming November City Council election.  While it was not surprising to see them endorse incumbents David Benavides and Sal Tinajero, in Wards 4 and 6, it was refreshing to see them back a challenger, Mirna Velasquez, in Ward 2.
SAPOA also is backing Mayor Miguel Pulido instead of Roman Reyna.
All of this makes perfect sense when you consider that Martinez pushed to get rid of the SAPD's strike force and has been squealing for awhile about getting rid of the SAPD's jail.  Her commitment to crime fighting has always been questionable given her background.  She has previously admitted to selling illegal drugs and her half-brother was arrested when she ran for Mayor back in 2008.
Reyna has his own troubles.  He appears to be a high school dropout and reportedly his brother died in prison.
This is great news for Pulido and Velasquez.  This is also the second big labor endorsement for Velasquez.  She was also  endorsed by the OC Labor Federation.  And former SAPD Police Chief Paul Walters has also endorsed Velasquez.
While SAPOA is backing Benavides I don't expect they will donate much money to him.  They blew a lot of money on him two years ago when he lost badly to Pulido in the 2012 Mayor's race.
As for Tinajero, he has no campaign website and no campaign Facebook page.  He doesn't appear to be running a campaign.