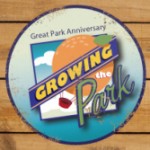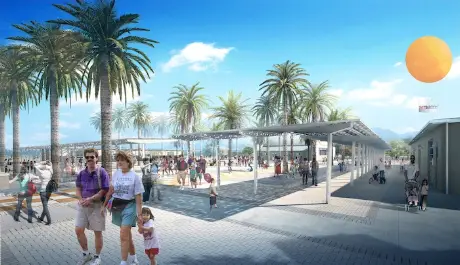 Palm Court Arts Complex to Debut at 2011 Great Park Anniversary Event
'Growing the Park' Features Air Show Style Aerial Performances, Petting Zoo, Military Vehicle Displays and Fireworks Show
FOR IMMEDIATE RELEASE: JUNE 14, 2011
CONTACT: JENN STARNES, 949-724-6574
WHAT: "Growing the Park — the Great Park's annual summer anniversary event — is a wide-ranging festival, spanning more than 30 acres. Activities include aerial acts every hour, arts and culture exhibits, sports activities, military vehicle displays, a petting zoo, cooking demonstrations and more, ending with a fireworks spectacular.
Two new areas of the Park will be open to the public for the first time at this event:
The North Lawn is an open play area for soccer, football, baseball and a variety of other field sports and recreational uses. The Lawn also includes a walking and biking trail.
The Palm Court Arts Complex consists of two former aviation squadron buildings that have been transformed into a 3,900-square foot gallery and 6,400-square foot artist's studio building, connected by an expansive outdoor plaza planted with 54 Canary Island palm trees.
The event will feature air-show style aerial performances and will have five distinct areas for visitors to enjoy:
"The Back Forty" – Highlights agriculture history. Includes petting zoo, hands-on agricultural craft activities and cooking demonstrations.
"Great Park Gallery" – Showcases arts and culture. Includes art displays and exhibits, demonstrations, local performers, hands-on activities, and community partner booths.
"The Runway" – Presents military history. Includes vintage aircraft and military vehicle displays, aerial entertainment, 2/11 Marine Battalion from Camp Pendleton, community partner booths and food service.
"The Outfield" – Features sports, health and wellness. Includes sports and fitness play area, demonstrations, and community partner booths.
"Sky's the Limit" – Represents the future of the Great Park. Includes Kids rock playground, open play area, and viewing area for aerial entertainment.
WHO: Beth Krom, Chair, Orange County Great Park Corporation
Sukhee Kang, Mayor, City of Irvine, and Director Orange County Great Park Corporation
Mike Ellzey, CEO of the Orange County Great Park Corporation
Interview opportunities
WHEN: July 9, 2011 from 3:00 p.m. to 9:30 p.m.
WHERE: Orange County Great Park
Off the 5 or 405 freeway at Sand Canyon and Marine Way in Irvine
WHY: 2011 Great Park Anniversary celebration is a community event that allows the community to see the development of the Great Park. The Palm Court Arts Complex and North Lawn, which debut at this event, are part of the nearly $70 million Western Sector Park Development Plan, which will increase the size of the Park to more than 200 acres. The plan will add exciting new features to the Park, including soccer fields, recreation space, park-wide improvements, walking and bike trails, community gardens and a farm.
###