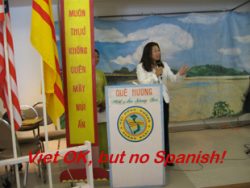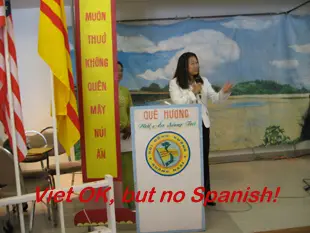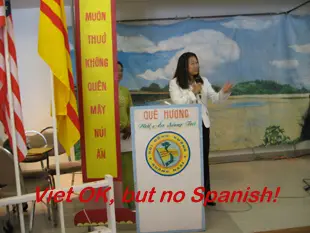 The letter below was delivered to the  County Board of Supervisors by Jamie Ross, Deputy Clerk to the Board by Rob Richardson, Assistant Chief Executive Officer – prior to this morning's Board meeting, on behalf of Zeke Hernandez, the President of the Santa Ana LULAC Council #147, regarding apparently racist comments made by most of the O.C. Supervisors at a recent board meeting.
The OC Weekly, by the way, fingered Supervisor Janet Nguyen as well:
Okay, so Janet Nguyen is REALLY stupid–I mean, stupider than what we already knew. Unlike the other supervisors, she knows exactly what Latino Health Access is about–she received an award from them a couple of years ago, according to sources who requested anonymity. In addition, Nguyen was present at a LHA community fair highlighted in Bill Moyers' Journal back in 2009 where LHA head America Bracho specifically said her organization, while obviously concerned about Latinos in SanTana, helps ALL. Nguyen can't excuse playing the dumb innocent in this story, although it's hardly hard for her to do so.
League of United Latin American Citizens
Santa Ana LULAC Council #147
Established: National – 1929 | Santa Ana – 1946
Orange County LULAC District #1
PO Box 1810, Santa Ana , CA 92702-1810
June 14, 2011
Chairman Bill Campbell and
Members of Board of Supervisors
County of Orange
333 West Santa Ana Boulevard
10 Civic Center Plaza
Santa Ana , California
Chairman Campbell and County Supervisors ,
On behalf of our general membership, I strongly urge the Board of Supervisors to call upon fellow Supervisors John Moorlach and Shawn Nelson to apologize for their comments that were meant to belittle the great work Latino Health Access has accomplished over the past 18 years in Orange County .
That Supervisor John Moorlach stopped a very normal process because he did not like the use of the word promotora in the language of the mental health outreach agreement. Clearly Supervisor Moorlach this time has stooped so low as to suggest the county to "hold up" critical services to persons who are in need of these mental health services by suggesting a non-English word should be removed for an English word.
Of course this was uncalled for – but then for Supervisor Shawn Nelson to be so up-front with his statement that he would lean towards what many would say is a blatant attempt to get the message across, that is, change your name or you wouldn't get my vote. Santa Ana LULAC is now asking, "How many Latinos and Latinas did Shawn Nelson ask to support and vote for him as Orange County Supervisor? The answer is plenty, because he had two Latinas as opponents in pursuit of the same elected position.
While we recognize that it can be difficult to serve as a public servant, we urge You Chairman Campbell to assist our community to quickly mend things in the best way possible. Santa Ana LULAC recognizes your great leadership as Chairman and that you will be taking steps to have the full Board recognize that this incident should have been avoided.
I wish to thank you in advance for your ability to get things right; please contact me at 714-661-4428 for any developments for a positive closure to this unfortunate incident.
Sincerely,
Zeke Hernandez
President