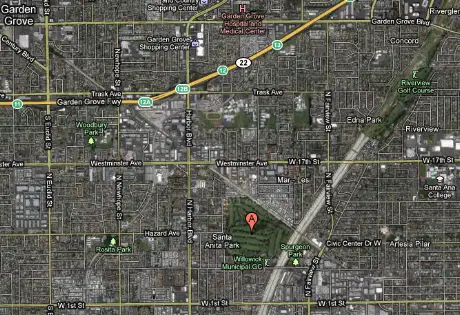 To understand the true genius that is the idea behind putting the Chivas Soccer Stadium complex at the site of the Willowick Golf Course, you have to look at the Google satellite map of the area.  You see that diagonal grey line that abuts the north side of Willowick and runs from Garden Grove to Santa Ana Blvd.?  That is the old P&E Santa Ana line.  It is an abandoned rail line.  And it is where Santa Ana Mayor Miguel Pulido wants to run a new street car system.
Now it all makes sense.  I thought the street car idea was pretty lame until I connected the dots – this new light rail system will begin at the Santa Ana Regional Transportation Center, where the Metrolink trains currently stop, over on the east of Downtown Santa Ana, and stretch all the way to downtown Garden Grove.  And it will bring Chivas fans to the new Stadium complex.

Take a look at the neighborhoods surrounding Willowick.  This is a very blue collar area.  The new light rail/street car will transform all of the neighborhoods lining the old P&E line.  And the new Chivas Soccer Stadium Complex will be a game changer.  I am told that it will include recreational facilities for our youth.
Think about the big picture.  The Chivas U.S. soccer club is a professional sports franchise.  It will be Santa Ana's first pro team.  It will put us on the map – and soccer is the most popular game in the world.  Here in the U.S. it is the most popular youth sport.
The street car to Garden Grove will also give our residents direct access to a cluster of colleges, including Cal State Fullerton's Extension campus.
What is the downside?  I don't see it.  The street car system would be funded by Measure M and federal grants.
There is already a precedent for this in San Diego, where a light rail system delivers fans to the San Diego Chargers Stadium.
The opposition to this project is comprised of a cluster of mostly white Republicans – none of whom live near the Willowick Golf Course.  The Voice of OC recently provided us with a list of some of these malcontents:
Tim Rush – not married, no kids, lives in south Santa Ana.  Registered Republican.
Tom Lutz – married but retired, lives by Santa Ana College.  Registered Republican.
Don Cribb – lives in the Park Santiago neighborhood, in north Santa Ana.  Not married, no kids.
Alfredo Amezcua – lives in Morrison Park.  Divorced.  Kids are grown up.  Registered Democrat.
Thomas Gordon – lives in south Santa Ana.  Not married.  No kids.  Registered Republican.
Dave Brandt – lives in south Santa Ana.  Retired.  Registered Republican.
Debbie McEwen – lives in French Park, where she once tried to keep Mexicans out with traffic barriers, which had to be torn out after the ACLU won a lawsuit against the City.  Not married.  No kids.
A friend of mine recently attended a meeting of these malcontent "Usual Suspects.  I asked my friend what they talked about.  The response was just as I figured, "they talked about how Mexicans always leave trash and diapers behind."
As usual, the opposition to the Chivas soccer team and soccer complex is rooted in overt racism.  That should not come as a surprise given the folks who are involved and given that most of them are Republicans.  I don't know what possessed Amezcua to join hands with these xenophobic haters.  Bad move Al!
These folks are crying about traffic and noise – and are saying that the Chivas will push Santa Ana High School and Santa Ana College football games out of Eddie West Stadium.  The truth is that the Chivas will play at that facility but only until the new complex at Willowick is built.  The Santa  Ana City Council will work with the SAUSD School Board and the Rancho Santiago Community College District's Board of Education to make sure that the school football teams are accomodated.  Pulido has allies on both of those elected bodies.  The City of Santa Ana has good relationships with both school districts.
As for traffic, the fact is that many Santa Ana residents will get to Eddie West field on foot, by bike and on the bus.  Eddie West Stadium has limited capacity.  I expect each Chivas game to be a total sell-out.
The good news for the school districts is that there will be improvements made to Eddie West Stadium that will benefit the school teams, at no cost to them.
It has been suggested that the Chivas soccer complex be built in east Santa Ana.  But when you consider the implications of the proposed street car system, it is obvious that Willowick is a slam dunk.
Will the City of Garden Grove, which owns Willowick, play ball?  You bet.  The street car system will bring new customers to their downtown, revitalizing that area too.  You think the restaurant owners in their downtown will be opposed to that?  No way!