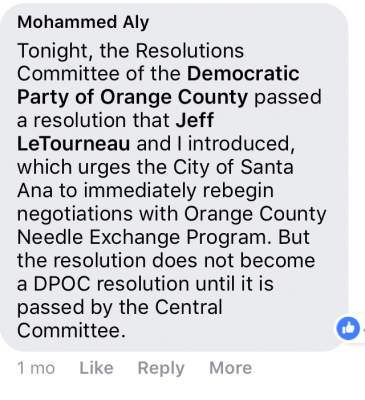 Should Santa Ana allow the Needle Exchange to operate again in the Civic Center?
Once again, people who do not live in Santa Ana are trying to tell our city what to do. After operating in the Civic Center for 2 years, the Orange County Needle Exchange Program (OCNEP) was denied a permit to continue giving out free needles in the Civic Center every Saturday. In January, the city decided that finding needles in our Civic Center, library, parks, and neighborhoods was a public safety issue, and could no longer allow the program to put resident's and city worker's safety at risk.

Mohammed Aly, a resident of Tustin, wrote a Facebook post using his usual hyperbolic rhetoric to claim our city was killing people by not allowing the needle exchange to continue operating in the Civic Center.
"The council has forced individuals to start using dirty syringes, and some individuals will certainly die as a result."
One of the comments on Aly's Facebook post was from Jeff LaTourneau stating "Negotations have begun! Stay tuned!" What negotiations is he speaking of?
LaTourneau, a resident of Brea, is a Vice-Chair for the Democratic Party of Orange County (DPOC), and we hear he has been talking with Santa Ana City Council members regarding the needle exchange operating again.
So why are 2 people, Mohammed Aly and Jeff LaTourneau, who don't live in our city trying to tell our elected officials what to do?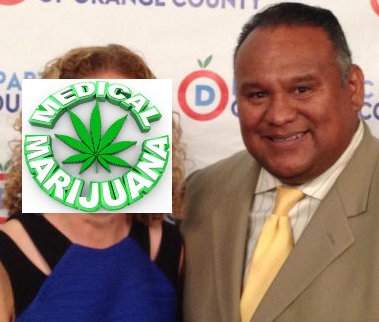 Based on Aly's Facebook post, he is going after City Council Member Sal Tinajero for not allowing the the needle exchange to continue.
Tinajero is running for Mayor this November, and he will be looking for support from the Democratic Party of OC. Considering LaTourneau's position with the DPOC, we hope they're not demanding Tinajero allow the needle exchange to operate again in return for a DPOC endorsement for his Mayoral campaign!
As a reminder to Tinajero and the rest of our City Council, the County removed over 4,000 needles while cleaning up the Santa Ana River Trail last month.
If Mohammed Aly and Jeff LaTourneau want a needle exchange, they should leave Santa Ana alone, and instead tell their own cities, Brea and Tustin, to allow one!!!