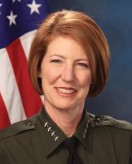 Orange County Sheriff Sandra Hutchens will be speaking at the West Floral Park Neighborhood Association on August 10, 2016, at 7 p.m., at Santiago Elementary School, in Room 51, which is behind the main office. Santiago Elementary is located at 2212 N. Baker St., in Santa Ana.
One question that might be posed to Sheriff Hutchens is whether or not her agency may take over security at the Plaza of the Flags, in the wake of the shooting of an unarmed homeless man by an SAPD police officer.

Hutchens may also face questions about the jail break that saw several hardened criminals escape into Santa Ana's inner city neighborhoods before they headed up north after kidnapping a taxi driver.
Hutchens' visit to the West Floral Park Neighborhood Association comes at a time when the SAPD is reeling as criminals have pretty much taken over Santa Ana. One has to wonder if the Santa Ana City Council should be considering outsourcing the SAPD to the O.C. Sheriff. We might be able to save a few million dollars in the process – which could be used to put more cops on the street.