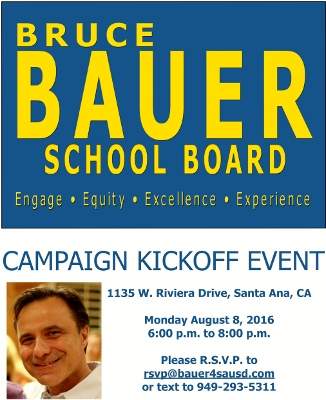 SAUSD School Board Candidate Bruce Bauer is hosting his campaign kickoff event on Monday, August 8, 2016, from 6 to 8 p.m., at 1135 W. Riviera Drive, in Santa Ana.
Please RSVP to rsvp@bauer4sausd.com or send a text to 949-293-5311.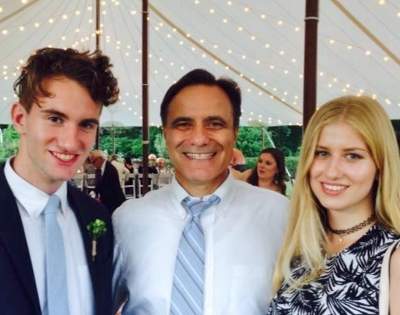 Bauer is a member of the Santa Ana Planning Commission. He is an attorney and he is very active in the community. He has been one of the most vocal proponents of completing the Santa Ana Creek Bike Trail.
Bauer grew up in a family of 12, and he and his twin brother spent a couple of years picking strawberries in Salinas. He then moved from Salinas down to Garden Grove in 1977, and he ended up graduating from Rancho Alamitos High School.
His family was not wealthy and he even worked in the fields for a time. He is a Democrat and he has the support of SAUSD Trustees John Palacio and Valerie Amezcua, who are also backing SAUSD School Board candidates Beatriz Mendoza and Gloria Alvarado.
In related news, Mendoza is launching her own SAUSD School Board campaign this evening form 6 to 8 p.m. at 1102 W. Riviera Drive, in Santa Ana.