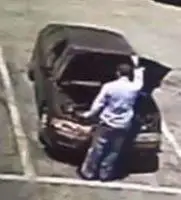 The Orange County Sheriff's Department (OCSD) is seeking the public's assistance to identify a person of interest in a fatal motorcycle vs. vehicle accident yesterday in Modjeska Canyon.
The person driving the vehicle in the accident left the scene before deputies arrived.
The vehicle was recently stolen from a Santa Ana tow yard. This video from the tow yard shows a male circle and then enter the vehicle. We are hoping that by identifying this person, we will learn more about who was driving the vehicle at the time of the fatal collision.
If you have any information, please contact OCSD Major Accident Reconstruction Team at 949-425-1860. Anonymous tips can be made to OC Crime Stoppers at 1-855-TIP-OCCS.