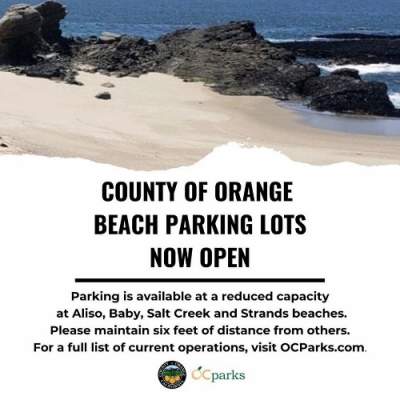 In an effort to minimize the impacts of coronavirus (COVID-19) on park patrons, staff, and the Orange County community at large, and consistent with the guidance provided by the Centers for Disease Control and Prevention (CDC), Governor's office, the Orange County Board of Supervisors and the Orange County Health Care Agency (HCA), OC Parks is operating in the following manner as of Monday, May 18, 2020.
County-Operated Beaches: Parking is now open with reduced capacity at Salt Creek, Strands and Baby beaches in Dana Point. The coastal lot is open at Aliso Beach in South Laguna, with the inland lot remaining closed. Parking at Capistrano Beach is closed for maintenance. Beaches are open for active recreation only. Appropriate physical distancing must be observed.

Permitted: Non-stationary activities like walking, running, swimming, surfing, paddling, boating, kayaking, etc.
Not Permitted: Sunbathing; building sandcastles; bringing coolers, umbrellas, grills, etc.; volleyball, spikeball and other group activities.

Beach hours are as follows:

County Beaches in South Laguna Beach (Aliso, Table Rock, West, Camel Point, Thousand Steps and Treasure Island beaches):  6 a.m. until 10 p.m. weekdays, 6 a.m.-12 p.m. Saturday and Sunday consistent with City of Laguna Beach hours. Please note the access way and restroom at Thousand Steps are closed.
Capistrano and Poche Beaches: 6 a.m.-10 p.m. daily.
Salt Creek and Strands Beaches: 5 a.m.-12 a.m. daily.
Baby Beach: 5 a.m.-10 p.m. daily.
Bayside Beach (at Newport Harbor Patrol) – 6 a.m.-10 p.m. daily.

Parking lots and restrooms are now open at all County regional and wilderness parks. This includes: Carbon Canyon, Clark, Craig, Irvine, Laguna Niguel, Mason, Mile Square, O'Neill, Peters Canyon, Santiago Oaks, Tri-City, Wieder and Yorba regional parks, as well as Aliso and Wood Canyons, Caspers, Laguna Coast, Riley, Whiting Ranch wilderness parks and Upper Newport Bay Nature Preserve.
Irvine Lake is open for fishing during its regular weekend hours.
Individual campsites at Caspers Wilderness Park and O'Neill Regional Park are open with reduced capacity. These will be available on a first-come, first-served basis.
The grounds of Heritage Hill Historical Park are open. All buildings remain closed.
The following amenities remain closed: playgrounds, exercise equipment, shelters, nature centers and park offices.
The OC Zoo remains closed.
Some volunteer programs and activities may resume with restrictions.
All public events, programs and activities canceled.
OC Parks Headquarters is closed.
Park Offices at Carbon Canyon, Clark, Craig, Irvine, Laguna Niguel, Mason, Mile Square, Santiago Oaks and Yorba regional parks are closed.
The Nix Nature Center at Laguna Coast Wilderness Park is closed.
The Muth Interpretive Center at Upper Newport Bay is closed.
The Interpretive Center at Clark Regional Park is closed.
All nature centers at regional parks are closed.
Arden: Helena Modjeska Historic House and Gardens is closed.
Irvine Ranch Historic Park is closed except for Tuesdays from 9 a.m. to 1 p.m. for the Farmers Market.
Old Orange County Courthouse is closed.
We are suspending new reservations, permit requests and annual pass sales.
Staff is available to answer your questions. We ask that you call the parks for more information and practice safe social distancing. Contact information for all our parks can be found by visiting the OC Parks website at ocparks.com
We apologize for the inconvenience but value you as a patron. More information about COVID-19 can be found at the OC Health Care Agency website www.ochealthinfo.com/novelcoronavirus.