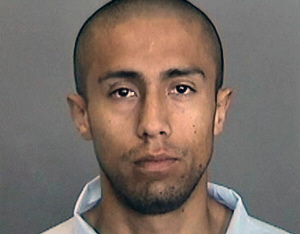 SANTA ANA – The Orange County District Attorney's (OCDA) Office will file two additional counts of murder Monday against a former Marine for the stabbing-murder of a mother and her son in Yorba Linda. The defendant is also charged with murdering four homeless men in a serial thrill-kill spree. Itzcoatl Ocampo, 23, Yorba Linda, is charged with six felony counts of murder with special circumstances for multiple murders and lying in wait and sentencing enhancements for personal use of a deadly weapon, a knife, during the commission of a crime. If convicted, he faces a minimum sentence of life in state prison without the possibility of parole. The special circumstances in this case make Ocampo eligible for the death penalty, and the District Attorney will make this determination at a later date. Ocampo is being held without bail and will be arraigned on the new charges Monday, Feb. 6, 2012, at 9:00 a.m. in Department CJ-1, Central Jail, Santa Ana.
Click here to read the O.C. District Attorney's full press release.
Remarks by District Attorney Tony Rackauckas
Itzcoatl Ocampo case
February 3, 2012
Thank you all for coming.
This afternoon at 4:45 p.m., Senior Deputy District Attorney Howard Gundy dismissed in court the double homicide case against Eder Giovanni Herrera. He was facing 52 years to life in state prison. The Orange County Sheriff's Department will be processing and releasing him from custody soon.
I am holding in my hand an amended complaint charging Itzcoatl Ocampo for the special circumstances murder of Mr. Herrera's mother and brother on October 25, 2011. The complaint will be filed on Monday before he is arraigned.
Ocampo will be charged with having murdered six people.
This case has now expanded from murdering random, vulnerable strangers, to murdering people he knew. It is chilling to know, that these murders took place two months before the murders of four homeless men began.
Here is the summary on the Herrera murders:
On the night of October 25, 2011, Eder Herrera's 53-year-old mother Raquel Estrada and 34-year-old brother Juan Herrera were found stabbed to death. The mother was stabbed over 30 times with a knife and her body was left on the kitchen floor. The brother was stabbed over 60 times and his body was left in a hallway.
At approximately 11:30 p.m. that night, Brea Police received a tip leading them to the victims' residence and began investigating the case.
On October 26, 2011, Herrera was arrested as he was driving away from his friend's home.
There was significant evidence that led to the filing of charges against Eder Herrerra on October 27th.
A witness saw a person he believed to be Herrera, dragging something from the front door threshold into the house. Based on blood evidence at the scene, it appeared that victim Juan Herrera had attempted to escape out the front door before being dragged back inside.
There was no evidence of forced entry into the home.
Herrera spent the evening driving around randomly with a friend. His behavior was suspicious. Law enforcement had evidence to believe that Herrera was in the area at the approximate time the 911 call was placed.
Video surveillance from a CVS showed a person resembling Herrera walking past the CVS close to the time of the 911 call. The call was placed from a nearby pay phone. The person captured on video was wearing shoes with a distinctive pattern on the side that appeared to match those that Herrera was wearing at the time of his arrest.
Herrera and his friend drove past Herrera's home and observed the police and crime scene investigation in front of the home.
Herrera did not want to stop to check on his family. At the urging of his friend, Herrera called his brother and mother, but was unable to reach them on their cell phones.
Despite these events, Herrera made no further effort to check on his mother and brother.
The investigation is ongoing. The multi-agency Homicide Task Force is continuing to investigate this case.
This afternoon, we learned new evidence that led me to decide that we no longer have sufficient evidence to hold Mr. Herrera in custody.
If he is indeed not culpable for these murders, I do not believe it would be right to keep him in custody over the weekend.
Since the filing of the charges against Herrera and Ocampo, there has been a significant amount of new evidence discovered in the case.
– Ocampo and Herrera were friends from high school.
– Ocampo lived approximately one mile away from Herrera at the time of the murder.
– The victims on the Herrera case suffered a substantial number of stab wounds to the upper body, similar to the homeless victims.
– We made a significant DNA link to evidence collected at Ocampo's home.
At this point, we have not conclusively eliminated Mr. Herrera as a suspect in this case. We will continue to investigate this case.