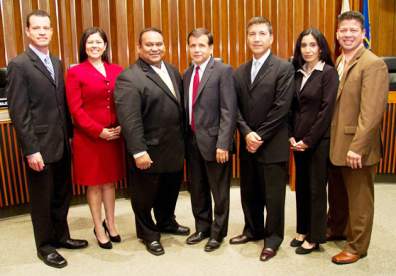 What is up with the Santa Ana City Council?  In their quest to fire popular and successful City Manager Paul Walters, they are talking like tough guys – as if they have some sort of mandate.  But do they? 
Here's what Mayor Pro Tem Sal Tinajero told the O.C. Register after this week's last minute closed-door meeting to ostensibly review the performance of City Manager Paul Walters and Sonia R. Carvalho, our City Attorney (who was added to the agenda just to make this look like less of a lynching of Walters):
"I don't think he's angered them," Tinajero said of Walters. "It's the mayor's reluctance to address the fact that there are seven council members.  The mayor has to realize that you don't get to call all the shots."
Say what?  Does this Council have a right to "call the shots"?  Really?  Let's have a look at just who exactly has a mandate in this town.
These Council clowns clearly have no political capitol to speak of.  But Mayor Pulido does and I can assure you, my readers, that he is not going to sit idly by and let these people ruin our city.  Remember that he was the driving force behind the recall of former SAUSD Trustee Nativo Lopez, who also got too big for his britches and paid the price for it.  Tinajero was an ally of Lopez at the time as they were both on the SAUSD School Board.  Tinajero survived that recall but will he survive another one?
Pulido has the support of the business community.  Even the Voice of OC had to admit that in a recent article.  The Benavides Council cabal does not.  And Pulido has a clear mandate – and I believe he is ready to use it.  You can expect a full court press in coming weeks – and this lame Council is going to be put in its place.
Walters wife Mary recently did a great job of summarizing what these clowns are up to, when she was interviewed by the Voice of OC.  I will close this article with some of my favorite excerpts from that article: 
Mary Walters called the situation a "witch hunt" against her husband, whom she said has been emotionally hurt by council members "not being grateful."
She was also sharply critical of the council majority, saying that, with the majority in control, she fears for relatives who live in the city. "I don't think they know what they're doing," she said of the council majority.
Mary Walters, like other City Hall sources, confirmed that the council majority views the city manager as too close to longtime Mayor Miguel Pulido, a perception Mary Walters says is false.
She described her husband as a fair and compassionate man who, when faced with possible layoffs, took single mothers off the list of city employees to receive pink slips.
"They're all ganging up on Miguel," Mary Walters said. "There isn't one thing that they've asked for that he [Paul Walters] hasn't done."
Mary is right.  This awful Council is ganging up on Mayor Pulido and they don't care who pays the price for their base pettiness.  Their arguments are insane of course.  Martinez, Tinajero and Benavides were all elected together in 2006 and they decided to pay ball with Pulido.  Nobody forced them too.  They did it and so did Sarmiento.  No one put a gun to their heads.  They were greedy and former City Manager Dave Ream knew it.  He bought them off one by one.  It was easy as none of them had any core ethics to speak of.  And they still don't – now they are just even greedier and they want all the power to themselves.
Mayor Pulido has only ever had one vote.  But he has something the rest of these nuts don't have – his wits and his lengthy experience.  And if they think they can bring him down they have another thing coming.  They want a war?  Well now they have one – but they are bringing BB guns to the battle and Pulido is locked and loaded with a vast legion of voters and supporters who will stand by him now in our darkest hour.  This isn't over by a long shot.  It is just starting and just as Pulido beat the Hell out of Benavides in November he is going to win this face-off too.  Just watch.