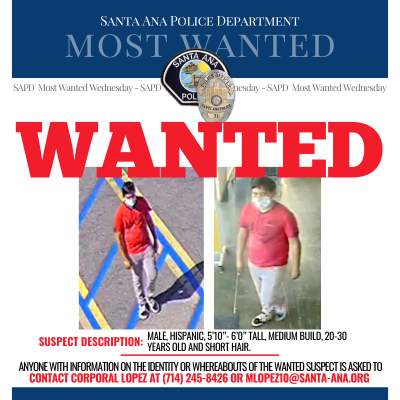 On July 2, 2021 at approximately 3:50PM, the suspect approached two separate juveniles, while inside the Santa Ana Goodwill store.  He touched one of the juveniles on the buttocks, over her clothing while retrieving merchandise off the display shelf.  He later positioned himself behind the second juvenile with his hand directly behind her buttocks. 
A customer witnessed his actions and yelled at the suspect, preventing him from touching the second victim. The suspect became verbally aggressive and fled on foot. 
 
The suspect was last seen walking southbound on Fairview Street. It is believed the suspect frequents the area. 
Location: 2702 W. 5th Street – Goodwill store
 
Suspect Description: Male, Hispanic, 20-30 years old, 5'10" to 6' tall, medium build, with short brown hair.  Wearing a red sleeve t-shirt, light gray pants, and black/white shoes.
  
Anyone with information on the identity or whereabouts of the wanted suspect is asked to contact Corporal Lopez at (714) 245-8426 or MLopez10@santa-ana.org.