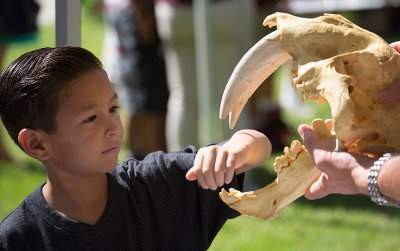 PRESS RELEASE
From Dinosaurs to People: Reliving Orange County's Past
The Heritage Museum of Orange County in partnership with Dr. John D. Cooper Archaeological and Paleontological Center will host a free event – From Dinosaurs to People: Reliving Orange County's Past on Sunday, July 19, 2015, from 11 a.m. to 4 p.m., at the Heritage Museum of Orange County in Santa Ana, CA. Dinosaurs to People will present Orange County's rich heritage of cultural history, natural history, prehistoric animals and plants, natural habitat, and local Native American history to the community.
Dinosaurs to People will be fun for both young and old, with a number of activities including archaeological and paleontological demonstrations and exhibits, a Junior Scientist Camp featuring educational crafts and hands-on activities. Members of the Gabrielino/Tongva tribe and the Juaneno/Acjachemen tribe will be present to share their culture with visitors.
Additionally, the Toll Roads/LSA Associate's Fossils in Your Backyard, the Santa Ana Fire Museum, Orange County Blacksmith Guild, , Rock-n-Roll Reptiles, Tucker Wildlife Sanctuary, Pacific Coast Archaeological Society, Naturalists for You, Reptile Rescue OC, South Coast Geological Society, and local Cultural Resource Management firms will all have booths to share information and educate visitors. Other activities include guided walking tours, fun talks, and local wildlife.
For more information please call 714-647-2100 or 714-540-0404.
The Junior Scientist Camp will include the following activities:
Archaeology and Paleontology sand-box digs
Make Your Own Fossil
Native American Rock Art
Sea Animal Crafts
Midden Sorting – real Prehistoric Trash
Mini-Dinosaur Excavation
Prehistoric Coloring book
Heritage Museum of Orange County is a cultural and natural history center dedicated to preserving, promoting, and restoring the heritage of Orange County and the surrounding region through quality hands-on educational programs for students and visitors of all ages. For more information, visit http://heritagemuseumoc.org/
The John D. Cooper Archaeological and Paleontological Center is a partnership between California State University, Fullerton and the County of Orange, through OC Parks. The Cooper Center is committed to the preservation, curation, and management of the fossils and artifacts within the County for the purpose of scientific research, public engagement, and education. For more information, visit http://www.jdcoopercenter.org/.
###