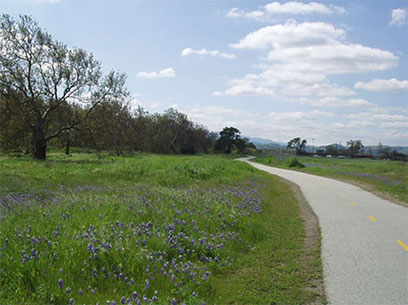 Regional Bikeways Roll Forward
Thanks to essential collaboration in the Fourth District, the Coyote Creek Bike Trail extension is making significant progress. The Coyote Creek Bike Trail meanders along the border of Orange and Los Angeles counties.
In its current state, the 9.5 mile trail runs along Coyote Creek from Sante Fe Springs to Long Beach, eventually connecting to the San Gabriel River Trail. Once the gaps are closed along the north end of the trail, this off-street bikeway would connect cities such as La Mirada and La Habra all the way to the coast.
Staff from OCTA, the County of Orange, Buena Park, La Mirada, and Fullerton focused on extending the path 2.5 miles from Hillsborough Dr. in La Mirada to La Mirada Blvd./Malvern Ave. in Buena Park. The project received $1 million in funds from OCTA's Bike Corridor Improvement Program and is scheduled for completion by early 2015.
This project was prioritized by OCTA, the County of Orange, Caltrans, and the cities of the region, which have worked together for several years to create a regional bikeways network plan. These efforts are being phased through each county's supervisorial districts.
A Draft Bikeways Strategy for Supervisorial Districts 1 and 2 has been developed that identifies several potential regional bikeway corridors. The draft will be presented at a Bikeways Workshop on September 11 from 6:00 to 7:30 PM at the Costa Mesa Neighborhood Community Center. Submit feedback on the project at www.octa.net/bikewaysplan