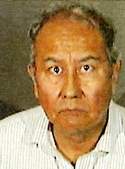 City of Bell, Police Department, Press Release
FOR IMMEDIATE RELEASE Contact: Sgt. Tom Rodriguez
Date: October 23, 2013 Phone: (323) 585-1245 ext. 276
LAW ENFORCEMENT SEEKS PUBLIC'S HELP IDENTIFYING POTENTIAL ADDITIONAL VICTIMS OF PHYSICIAN CHARGED WITH SEXUALLY ASSUALTING FEMALE PATIENTS DURING MEDICAL EXAMS
Bell Ca. – A female citizen reported to the Bell Police Department that she was a victim of a sexual assault. The alleged assault took place during a medical exam by Dr. Edgar Lluncor at his clinic which is located at 4276 Florence Avenue, in the City of Bell.
The victim sought the care of Dr. Lluncor for stomach pain and was sexually assaulted during the medical exam. Detectives contacted the California medical board and learned of two additional similar complaints on the doctor. Detectives conducted interviews and collected the This investigation determined Dr. Lluncor's actions were an extreme departure of medical care.
On October 23, 2013, at about 11:00 am, Dr. Lluncor was taken into custody by Bell Police Detectives at his clinic without incident. He was transported and booked into the Bell City Jail where he later posted bond for $ 100,000.00, he is now out on bail. He is facing the following Penal Code section 289, Penetration with a foreign object.
He will be arraigned at Norwalk Superior Court in November. If convicted, he faces up to 8 years in state prison and removal of his medical license.
We urge any other possible victims to please come forward and contact Detective Rodrigo Rodarte of the Bell Police Department at (323) 585-1245 ext. 253.
###