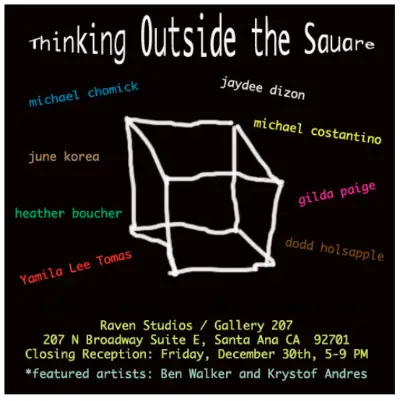 For Immediate Release
Jaydee Dizon (310) 962-4520
Invitation to the TOTS Exhibition's Closing Reception at Raven Studios!
Artist collaborators: Michael Chomick, June Korea, Yamila Lee Tomas, Michael Costantino, Gilda Paige, Dodd Holsapple, Heather Boucher (HAB), and Jaydee Dizon, a group exhibition's closing reception of Thinking Outside the Square (TOTS).  Join us on Friday, December 30 from 5-9 PM at 207 N. Broadway St., Suite E, which is located inthe heart of Santa Ana's historic Santora Arts Building on the 2nd Floor.  
A New York-based painter, Yamila Lee Tomas who captures the title of her artwork, "Think Outside the Box." As mixmedia artist, Michael Chomick shares his bust sculptures from his main theme, Exploration of the "Human Condition". A visual artist from Santa Monica, Dodd Holsapple contributes his organic materials such as mud as he titled, "MudMoney." A local Pasadena Photographer, June Korea incorporates a surprising approach in photographing the back of a large format camera. An amazing installation and designer from San Diego, Gilda Paige created her "Oro Plata Mata" with metallic pieces and includes an illuminated dome-like structure.
Waiting for a perfect moment comes naturally as Michael Costantino's color photographs utilizes a key element in photography also known as composition. Although, Heather Boucher (HAB) produces her black and white photographs along with a medium in hot wax called encaustic. While the artist, Jaydee Dizon pushes beyond and out of the square idea by limiting her sense of hearing and sight versus the everyday "noise and distraction," within her newfound 2D concept of the "Five Senses Project." Also, featuring artists Ben Walker and Krystof Andres to add to the aforementioned eclectic mix of artists!
The Raven Studios / Gallery 207 is dedicated in promoting traditional and contemporary artists from Southern andNorthern California and plans to build relationships all over the US and internationally in the near future.Raven Studios / Gallery 207 207 N. Broadway Street, Suite E, Santa Ana, CA 92701Visit us on the web at http://gallery207.org for more information!
END