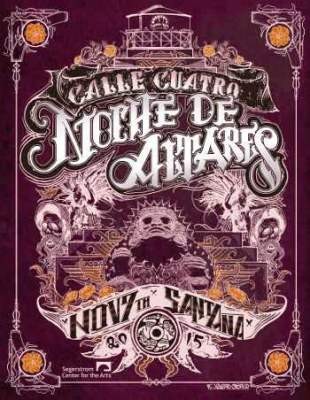 El Centro Cultural de Mexico is hosting their annual Noche de Altares (Day of the Dead) event on Saturday, November 7 , from 1:00 p.m. – 10:00 p.m. at 4th and Birch Streets, in Santa Ana.
Since 2002, El Centro Cultural de Mexico has been organizing Noche de Altares, or a Night of Altars, a community based Día de los Muertos celebration, where families, students, community organization and businesses come together to create an authentic cultural experience that reflects Mexican tradition and what makes up our communities today. Organized by volunteers, the purpose of the celebration is to honor the ancient traditions of the festival and bring community members together through art, culture, and compassion.
For one night, families, students, community organizations, activists, artists, and businesses are invited to build an altar in memory of a deceased loved one or to bring awareness to a social issue. By making altars, participants are inviting fellow community members into their own life and passions for a loved one. Over the years we have seen altars bring strangers together through mutual compassion, understanding and dialogue. Families reunite to remember and honor their loved ones.
In addition to viewing beautifully created altars, attendees will be entertained by cultural performances and live music. Children can get their face painted and participate in free, art workshops. Local artists will be selling their wares and local restaurants will be selling their most delicious dishes. Finally, attendees will have a photo opportunities with La Catrina, the modern-day icon of Día de los Muertos created by Mexican artist Jose Guadalupe Posada.
It should be noted as well that El Centro Cultural de Mexico has steadfastly refused to accept money from the DTSA gentrifiers including the Chase family.
Please consider making a donation to this event. Send checks payable to "Noche de Altares" and mail to:
Centro Cultural de México
c/o Noche de Altares
PO Box 133, Santa Ana, 92702
For more information and general questions please email nochedealtares@elcentroculturaldemexico.org.