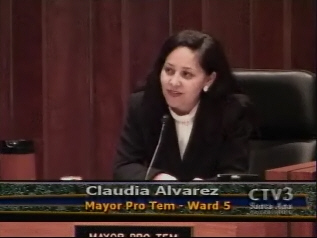 UPDATE: Sources report that Santa Ana Mayor Pro Tem Claudia Alvarez is going to run for reelection this November.  There has been some debate about whether or not Measure D, which allowed her to run for a third term, would allow her to run for two more.  Alvarez is essentially challenging her detractors to sue her if they want to remove her from the ballot.  There is precedent for similar measures to grant incumbents a new set of terms – which means that Alvarez could run twice more.  She has been on the City Council for three terms – twelve years.  Only Mayor Miguel Pulido has been there longer.  Go Claudia!
"The city of Santa Ana has sought an outside legal opinion on whether Councilwoman Claudia Alvarez — who is thought to be termed out of office next year — can run for a fourth term on City Council, Santa Ana's interim City Manager Paul Walters confirmed this week," according to the Voice of OC.
Prior to the passage of Measure D in 2008, Santa Ana City Council members could only serve two consecutive four-year terms. The successful campaign for Measure D — which was run out of Alvarez's home  — added another four-year term to that limit.  
The theory is that Measure D restarted Alvarez with a fresh set of terms.  That means she can run again.  That is what the City of Santa Ana's outside counsel is verifying.
I thought the Santa Ana City Council wasn't going to pursue this – but I am glad they are doing so.  Say what you will about Alvarez but I think she is smarter than the rest of the Council Members – and she has the huevos to stand up to the Usual Suspects.  For that I am glad.
If she gets to run again, she will win, hands down.  I doubt the Usual Suspects will even find someone to run against her.  Mark my words.  Hate her all you want, but she has always garnered the most votes of any of the Council Members.  She is currently the longest tenured Council Member, although Mayor Miguel Pulido has been in office much longer than she has.
Four more years of Alvarez will surely drive the PBID crowd nuts – their promoter, Archer Altstaetter, regularly rips her on Facebook.  Keep it up Archer.  Sooner or later she will handle you, the way she took care of Councilman Carlos Bustamante.  Why don't you ask Carlos how it worked out for him when he went after her?