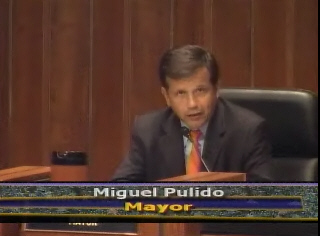 I met with Santa Ana Mayor Miguel Pulido yesterday morning, and he was kind enough to share with me, again, his itinerary.  Remember as you read this that Pulido is a part-time Mayor – but he clearly spends a lot of time doing the job he was elected to do:
8:30 a.m.  Pedro Magallon, Santa Ana Winds Soccer
8:45 a.m. Jose Harris, JNH Motivational, Meet and Greet. New business at Martinez Bookstore
9:00 a.m. Art Pedroza and Matt Southgate, AVASA, Future of Artist Village and possible Mardi Gras type festival
9:15 a.m. Nati Alvarado, Project Backpack 2011
9:30 a.m. Lara Beers, Recycle Bank Program
9:50 a.m. Dave Elliott, Building a working relationship between SA & Chamber of Commerce, City focus for 2011, Chamber's role with City to strengthen SA
10:10 a.m. Ernie Vasquez and Melanie Rios Glaser, Wooden Floor Executive & Artistic Director, Potential expansion opportunities for the Wooden Floor
10:30 a.m. Jay Trevino, Planning issues
10:50 a.m. Louie Lujan, Gov. Affairs Director, Fighting the blight, crime, and safety issues caused byvacant properties
11:10 a.m. Lara Montagne, The Grain Project
12:00 p.m. Ernesto Medrano, Eric Henry and possibly Patrick Kelly, Teamsters
12:30 p.m. Ralph Opacic, Steve Wagner and Sue Baung, Tennis Program at OCHSA
1:00 p.m. Peter Wittingham and Tim Conlon,Cabco Yellow Inc., AQMD funding for natural gas vehicles
What a day!  And Pulido still has an afternoon full of additional appointments to work through.

We are fortunate to have a Mayor who can spend so much time on city business.  Mayor Pulido made it clear that he is available to talk to anyone who wants to meet with him with regard to city business.  If you want to meet with him contact Becky Magallon, at City Hall, at BMagallon@santa-ana.org. She is an Executive Assistant to City Manager Dave Ream.
Click here to read our previous installment, A Day in the Life of Santa Ana Mayor Miguel Pulido.