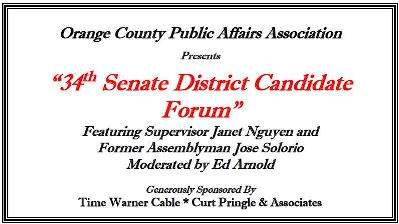 The Orange County Public Affairs Association is hosting a "34th Senate District Candidate Forum" featuring Orange County Supervisor Janet Nguyen and former State Assemblyman Jose Solorio on Wednesday, September 10, 2014, at 11:30 am, at the Pacific Club, located at 4110 MacArthur Blvd., Newport Beach (includes parking).
This event will be moderated by former Real Orange TV News Anchor Ed Arnold.  The event is sponsored by Time Warner Cable and Curt Pringle & Associates.
11:30 A.M. Reception
12:00 Noon Lunch & Debate
Email your RSVP to ocpaa93@yahoo.com or Call 888-246-7424. Credit Card Payments accepted through PayPal.  Cost For Each $50 Members/$55 Non Members.
Democratic supermajority control of the State Senate will come down to less than a handful of key races, including the 34th Senate District seat, now held by termed out Senator Lou Correa, a Democrat. Come hear what these candidates have to say about the issues facing the voters, Orange County and the state.