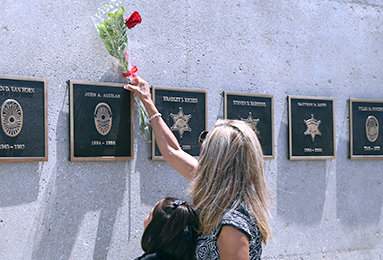 FOR IMMEDIATE RELEASE
Contacts: Lt. Jeff Hallock, 714.904.7042, JHallock@ocsd.org; Emily Osterberg, 714.647.1840, EOsterberg@ocsd.org
2015 Orange County Peace Officers' Memorial Ceremony
Law enforcement officers representing 40 Orange County agencies pay tribute to our fallen officers
TUSTIN, CA – (May 22, 2015) – Charged with protecting those they serve, police officers put themselves in harm's way to enforce the law. Unfortunately, some officers pay the ultimate price, laying down their own life in valiant service of others. In honor of these fallen heroes, the Orange County Sheriff's Advisory Council and the Orange County Chiefs' of Police and Sheriff's Association (OCCPSA) each year sponsor the Peace Officers' Memorial Ceremony.
WHAT: Memorial Ceremony and Candlelight Vigil at the Orange County Peace Officers' Memorial Monument
To include:
Keynote Speaker: Daniel Llorens, Chief of Police, Fountain Valley Police Department
Peace Officers' Memorial Honor Guard
A caparisoned horse a.k.a. riderless horse
Roll call of honor naming each fallen officer on the wall
Fly over of helicopters in "missing man" formation
3-volley gun salute, buglers and bagpiper
Candlelight Vigil immediately following Memorial Ceremony
WHEN: Thursday, May 28, 2015 at 7 p.m.
Media check-in at 6 p.m.
WHERE: Orange County Sheriff's Regional Training Academy
15991 Armstrong Avenue
Tustin, CA
WHO: Scheduled to be in attendance:
John Scott, Former Los Angeles County Sheriff and Current Orange County Undersheriff
Daniel Llorens, President of the Orange County Chiefs' of Police and Sheriff's Association and Chief of Fountain Valley Police Department
Todd Spitzer, Chairman of the Orange County Board of Supervisors, 3rd District
###