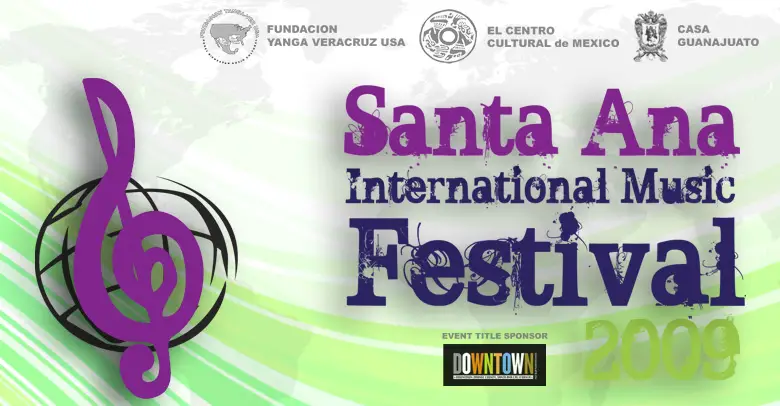 1st Annual Santa Ana International Music Festival 2009
Casas Guanajuato – Santa Ana, El Centro Cultural de Mexico and Fundacion Yanga Veracruz
Title Sponsor – Downtown Inc.
Where: Downtown Santa Ana 4th Street, Sycamore, Artist Village, Fiesta Marketplace, Yost Theater
When: Saturday November 21, 2009, noon to 9:00 p.m and Sunday November 22, 2009, noon to 8:00 p.m
Entertainment: various musical styles from all over the world, including world music, country, reggae, latin, african drumming, japanese, flamenco, persian, rock, hip hop, native american, colombian, brazilia and much more…
Booths: artist/vendors/food booths are still available for both days. Co-sponsored by Downtown Inc., they start at $150.
Please contact 714.277.7183/events@el-centro.org or 714.543.0052/ casagto@sbcglobal.net.
You can also visit Calacas Inc. at 324 W. 4th Street No. B Santa Ana, CA 92701
STAGE LINEUP
Paseo Fiesta Marketplace
Saturday, November 21
12:00 Japanese Shamisen Japanese
12:30 Danza Azteca IMACCO Danza Azteca
01:00 Ballet To-tlali Ballet Folclorico
01:30 Quijote Samba
02:30 Gypsy Den Performers Acoustic Vox
03:00 Pina Vega Tropical Vox
03:30 Ballet del Centro Ballet Folclorico
04:00 Hermanas Martinez Traditional
Artist Village (Broadway & 2nd)
Saturday, November 21
05:00 Fernando Vela Latin
05:30 Fernando Vela Latin
06:00 Ayllu Sankana Andean
06:30 Mahootie Folk/Acoustic
07:15 STL Reggaeton
07:30 Big Black Novel Grunge/Metal
08:15 Retreux Parish Funk/Rock/Jazz
Santa Cecilia Procession (4th/Bush)
Sunday, November 22
11:30 Meet at 4th/Bush
12:00 Procession begins from 4th/Bush to Stage at 4th/French
12:30 Street – Taller Sur Latin/Folk
12:30 Street – Huayna Pacha Bolivian
12:30 Street – Centro Clase de Guitarra Guitar
12:30 Street – Son Jarocho Son Jarocho
Sycamore Stage (Sycamore/4th)
Sunday, November 22
12:30 Int.Academy of Dance "World Fusion" World Dance
12:30 Danzon/Zumba Centro Danzones/Zumba
01:00 Reg/YangaCasaG – Escuadron de Cadetes Norteño
01:30 Motherland Music – Japanese Japanese
02:00 Ayres de Los Andes Andean
02:30 Indian Center Performance Group Native American
03:00 Poet Ali Flamenco
03:30 The Delirians Reggae
04:00 Motherland Music – African Ensemble African
04:30 Mijas Magnum Vietnamese Pop
05:00 Mijas Magnum Vietnamese Pop
05:30 Son Merekumbe Colombian
06:00 Son del Centro Son Jarocho
06:30 Son del Centro Son Jarocho
07:00 Reg/Centro-Liberados Musical Versatil
07:30 Reg/Centro-Liberados Musical Versatil
French Stage (French/4th)
Sunday, November 22
12:00 Santa Cecilia Blessing
12:30 Fraternidad Diablada/Bolivia Internacional Bolivian
01:00 Rocio y Su Sonora Tropical/Sonora
01:30 Rocio y Su Sonora Tropical/Sonora
02:00 TBA
02:30 Motherland Music – African Ensemble African
03:00 Exilia2 Urban
03:30 Exilia2 Urban
04:00 Poet Ali Flamenco 150
04:30 Los del Centro Tropical/Versatil
05:00 Los del Centro Tropical/Versatil
05:30 Motherland Music – Japanese Japanese
06:00 Santa Cecilia Latin Fusion
06:30 Santa Cecilia Latin Fusion
07:00 Mayaztec Native Fusion
07:30 Mayaztec Native Fusion