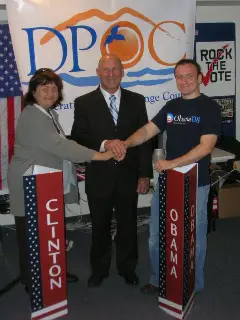 The Democratic Party of Orange County is offering a free candidate training workshop! If you are planning on running for local office or will be working on a campaign, we strongly encourage you to attend this all day training.
Learn what it takes to run a successful campaign from those who have done it!
Saturday, December 12, 2009
8:00 AM – 6:00 PM
A light breakfast and lunch will be provided.
Help keep this training program going by becoming a sponsor!
Training Location:
Orange County Employees Association
830 North Ross Street
Santa Ana, CA
Topics will include:
* Building your team
* Fundraising fundamentals
* Messaging/Media (Slate mailers, bulk mail)
* Targeting (Calculating your win number)
* Using new technology
* Field (Developing a field plan, volunteers, etc.)
* Unions (How they can help, how to get endorsed)
In addition, there will be a special lunch panel where you'll hear testimonials directly from local elected officials.
For more information or to sign up for this training, please email training@ocdemocrats.org or call (714)835-5158.
Note: The California Democratic Party will host an additional Orange County Campaign Training in April 2010.
I hope to see you there!
Sincerely,
Henry Vandermeir
Political Director, Democratic Party of Orange County
email: info@ocdemocrats.org
phone: (714) 835-5158
web: http://www.ocdemocrats.org/